If Petra Collins' success could be defined, it would surpass her soft female gaze aesthetic, beyond her collaborative accolades, and may ultimately be chalked up to her ability to transform — and if you've followed the lifespan of her work so far, you'd probably agree.
After failing her high school photography class, Collins stole the school's camera and started making her own rules. Cultivating her own style that blends the dreaminess of girlhood with undeniable underlying darkness, she has fortified a sort of "forever genre" in the art world which has been hugely popularized and adapted throughout an entire generation.
Perhaps the most prominent running thread through her work is this theme the continuation of playing with that darkness throughout her varied projects.
"It's interesting because the one light in my life really is creating art," Collins admits. "And so no matter what I've been through, I've always been able to express myself, which I guess is really crazy, but there's nothing that's ever made me want to stop because it's the thing that helps me the most."
This may help explain the artist's countless titles, achievements, and the sheer volume of work she's been able to produce since getting recognized at only 17 years old. On paper, Collins is a photographer, music video director to creative director of her own clothing brand, to name a few, and within just the past few months, she has launched the book "Fairy Tales" with Alexa Demie and dropped the third line in her SSENSE-powered line, I'm Sorry.
As if that couldn't conclude an accomplished year in itself, now, the self-taught artist becomes the teacher as Collins creates her very own MasterClass. The biggest lesson? To inspire others to become more introspective, find what they want to say, and then fearlessly express it – along with the basics of shooting film, of course.
How does it feel to have your own Masterclass?
I was really excited when I was asked to do my own Masterclass. The way that I've learned photography has been super unconventional and is definitely not the way that photography is taught. So I originally was like, "Are you guys sure?"
I feel like when people are learning to shoot film now, it's probably not their first experience taking photos. Everyone has an iPhone, everyone's taking photos.
Yeah.
Do you think that the accessibility has changed the craft at all?
It's only strengthened it with people who want to take photos, actually get behind the camera and take photos. I remember when the iPhone rose to power and it became popular, and people were saying like, "This is the end of photography." And I really didn't see it that way.
Obviously, all of Gen Z is so obsessed with analog. Because all of them are being fed technology and they just want to be removed from it. Or they want something special, like books or records or CDs or anything. So I think it's only helped to the point where I'm hoping that people will want to take a moment and pause more often.
Do you think the conversation around girlhood is revolutionizing with the increase in documentary mediums?
I think it's just as simple as adding images to the world. I know that's very a blanket sentence because I don't want to put too much crazy importance on it. It's just adding to this giant landscape of what we're figuring out girlhood is.
My image of girlhood was always very dreamy and pretty, but it's very, very dark. I was experiencing a lot of trauma at that time, and from a young age. I wasn't living the life of a teenager. Those images actually hold so much weight because there's so much desire in them. There's also a lot of darkness, where I was projecting what teenage hood was because I really wasn't experiencing it at all.
There was a period when it was very bright and there was a lot of pastel and pink. But even before that, I've had this through-line of darkness, which is where I came from. And I think the reason the images have held up, or why people still love them is because you can't point at one emotion. The aesthetic that I cultivated was a mix of all of that. So it was me wanting to make something beautiful, but also needing to look at this darkness. That's something that I've never moved away from.
You've always been super open about these darker subjects. Whether it's dealing with mental health or what have you. Was there ever a moment in your career that you experienced, which made you almost want to stop taking photos because it got too dark?
The one light in my life really is creating art. And so no matter what I've been through, I've always been able to express myself, which I guess is really crazy, but there's nothing that's ever made me want to stop because it's the thing that helps me the most.
So even currently, I just went through a bunch of personal stuff and I was immediately like, "Okay, how can I take this and put it out there?" I don't think anything could ever stop me from doing it. I think it's more maybe I would change my medium, but it really is the way that I've stayed sane, basically.
How did this manifest into your creative director role for I'm Sorry for SSENSE?
It's been a journey, but I think the last drop was the most cohesive. If you're working in one medium, It's important to grow in all other facets. I never went to school after I failed that photo photography class in high school. But that taught that you constantly need to be sharpening your tool.
I mean, I have a lot of awareness because I've shot so much fashion. It was interesting designing and creating clothes. I never get to step into that role, and I'm not trying to really step into that role necessarily, but it's fun because I can take all of my visual references and finally put them into something wearable. I approach it as if each piece is a character in the movie or something.
So tell me then a little bit about who your main character is in this latest drop.
The character in this drop lives on a compound, very visually close to the LDS. There are a lot of TikToks about this community that I watched and a new documentary out about the LDS family that served as inspiration. On the mood board, that's my reference. But anyway, I think I'm interested in cults because I was raised in a cult-like environment as a child. But more than anything it's visually interesting, a need to dress alike.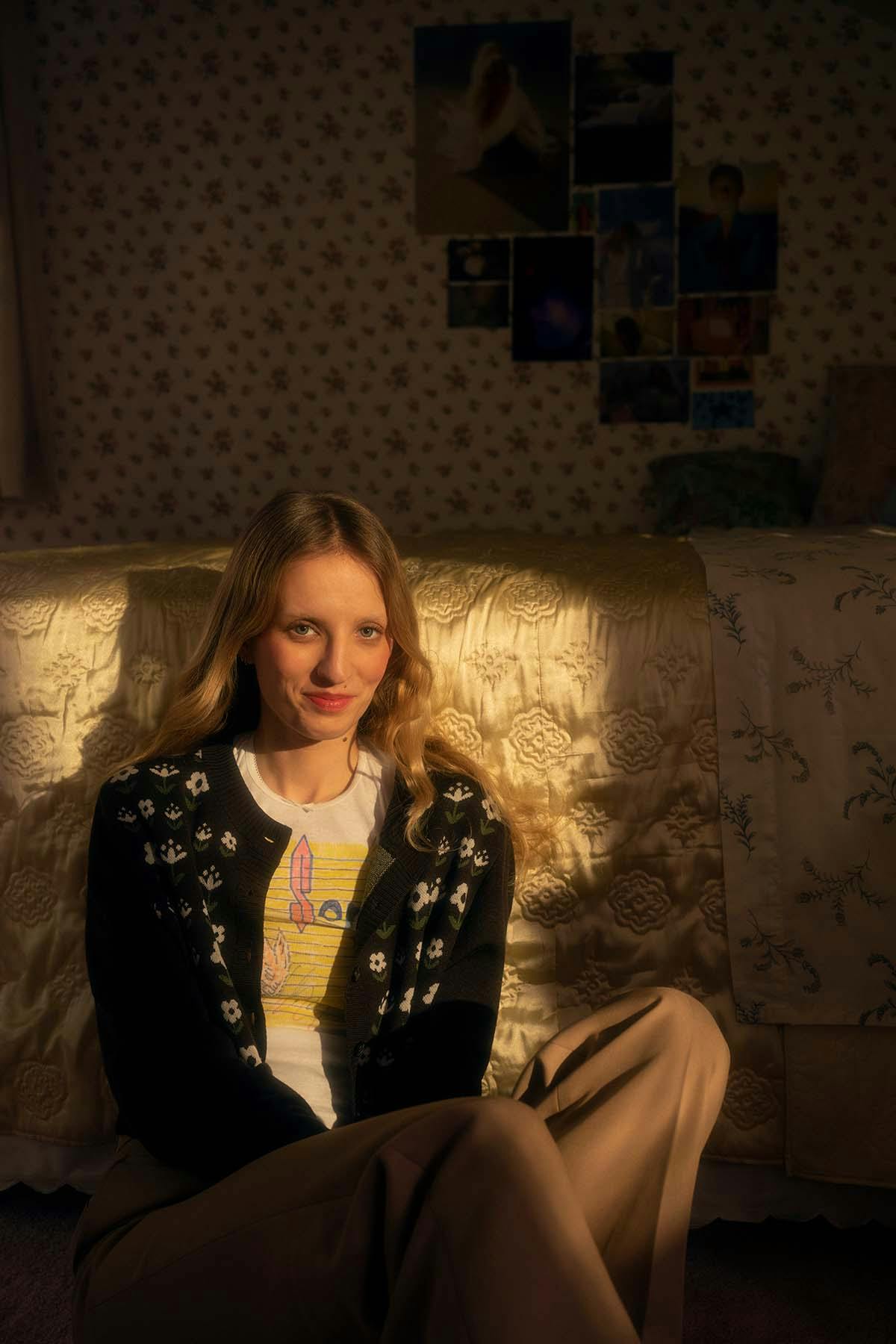 I get what you mean. I feel like there is a resurgence of the uniform in fashion on a bigger scale too.
Totally. I love going back to older modes of cult behavior because we are really living in it via the internet, via face mods. I took that older model and infused it with the now. In the latest drop, we have the very Prairie-like cults kind of dresses that say "SHADOW BANNED". It's as if these people are the sort of the new-age rendition of this reference.
I wrote down a story for it once and it went like this: They're on a farm, and they have to create content, but they're removed from the world. Something like that… I mean, I'm so obsessed.
What's your current favorite popular movement?
Oh, you know what I love?
What?
I really love the American Girl doll memes, that say, "we need an American Girl Doll who…". They're so, so good. American Girl doll with that writing is my aesthetic.
Can you explain how you logistically planned on switching from the POV of self-taught photographer to teacher in your own MasterClass?
That was the easiest part because I have been doing that since I started. When I went to college I started doing my own lectures. Weirdly, "teacher" is sort of a very easy position to slip into because of the way I've grown up around art and collaboration.
My favorite, favorite, favorite thing to do is obviously watch other people's processes. I had always been so obsessed with behind-the-scenes on DVDs and stuff. I'm also not a classic teacher, that's like, "This is wrong. This is right." I'm just opening up a conversation about it and just showing you my way of doing it, which might not be the right way for others.
I can see how one would teach the logistics of photography, but your style is so inherently you. How can you prompt people to find their own style?
The logistics were the hardest to teach. Literally. I honestly almost cried on set because it was so difficult. I don't know how much is learning disabilities, and how much is trauma, which makes you unable to read or process certain things.
What I'm trying to get through to everyone is more about doing a deep dive on yourself. It's honestly more spiritual than anything. There's this confusion when you first start creating anything, where you're like, "What do I look at? Or what do I mimic?" You kind of look outside of yourself, which obviously makes sense. But the real work, I think, is to figure out what you want.
It's a forever process of finding who you are. And then also looking for inspiration in spaces that aren't necessarily just visual. It's the experiences, or I don't know, maybe something that I read or learned or a little story. That's what is misleading when you take a course on anything.
So when you get in that place, what's the most recent thing that you've been inspired by that you've wanted to pull on a bit more?
I've just been ruminating a lot on the body versus phone… I don't want to say too much, actually, because it can be misconstrued. Yeah. I think a lot of lurking on the internet is what I've been doing.
Revisit our Frontpage interview with Petra Collins here.