Emma Vernon, TikTok's resident fragrance expert and host of olfactory podcast Perfume Room, greets me with a jar of blotters and a dizzying array of perfume bottles as I enter her New York City apartment for a one-on-one scent consultation.
Three anticipation-filled weeks ago, I'd enlisted Vernon, who guides confused noses towards their signature scent for a fee, to help me smell like the Olsen twins.
Let me explain.
Before meeting with Vernon, she sent me a short questionnaire that included queries like: "Age/sign," "How would you describe your current aesthetic (or desired one)," "Would you like a scent that matches said aesthetic?" and an invitation to list celebrities or fictional characters "whose vibe best represents what you want."
"If I were a shoe, I would be a Maison Margiela Tabi ballet flat (white but scuffed)," I replied, hating myself as I typed this tidbit of info out. "I definitely want a scent that makes sense with my style, but I'm open to trying new things! In terms of celeb inspiration — I would love to smell like the Olsen twins."
I just know that Mary-Kate and Ashley smell good. They founded The Row, purveyors of $6,000 cashmere coats and $1,500 cardigans — they absolutely pay equal attention to what they wear, sartorially, as to what they wear, olfactorily.
So what reeks of super-soft wool and quiet luxury? Iris, according to Vernon.
"This is one that, to me, is Olsen twin-y," Vernon says, passing me her first recommendation, Nettuno by Mendittorosa. Immediately, I smell rubbing alcohol (which, admittedly, I love). But as it opens up, it begins to blossom into a flower garden adjacent to a shoe factory — a "suede, iris leather," in Vernon's words.
Other Olsen twin-y, iris-y scents: Iris by Molecule 01, Iris Rebelle by Atelier Cologne, and Orris by Commodity. I ask Vernon what differentiates "iris" from "orris," the former being the iris flower and the latter being the root of the plant.
"Whereas Iris goes a little bit like chalky and floral, orris goes waxy, buttery, and round. [Orris] is gonna smell more like lipstick, and iris is gonna feel more like Pez candy."
For a scent that captures the Olsens' well-documented love of les cigarettes, Vernon introduces me to Maya Njie's Tobak, smoky yet sweet. "This feels like something you would smell in Brooklyn on someone who is going for the grandfather aesthetic but in a cool, hip way," she says, bringing to mind the twins' oversized knits, tailored trousers, and nondescript leather shoes.
I can imagine myself wearing every scent that Vernon has recommended thus far, but I'm still grasping for something with more oomph — something as striking as the Olsens' wide-eyed, slightly worried expression, usually complemented by a heaping of black eyeliner.
That's when Vernon slides Baraonda by Nasomatto over to me. It's love at first whiff.
Baraonda smells like top-shelf whiskey in a Baccarat decanter. To be clear: I'm not a whiskey freak, but the scent balances the spirit's signature caramel woodiness with rose and musk in a totally intoxicating way. (Fun fact: the Olsens' diffusion line Elizabeth & James once offered a fragrance, Nirvana, that smelled like bourbon.)
On paper, Baraonda isn't something I'd gravitate towards. But Vernon guided my fragrance hunt to bounty — and it was right under my nose the entire time (sorry, I had to).
Discovering a scent you love feels something like magic, and Vernon's perfume-pairing skills seem alchemical. When I ask how she does it, she explains that it's not all about matching personalities with notes.
"I do feel like there are certain fragrances that have certain personalities associated," Vernon says, noting that the same correlations exist when it comes to fashion. "It would be hard to see someone shying away from a crowd wearing something like Guerlain Shalimar… but it's just about [wearing] it with confidence. If the fragrance doesn't wear you — if you wear the fragrance — you wear that fragrance."
Before leaving Vernon's fragrance-filled abode, I hit her with one last query: what does she think of the Olsens' $500 The Row perfume oils? Has she smelled them?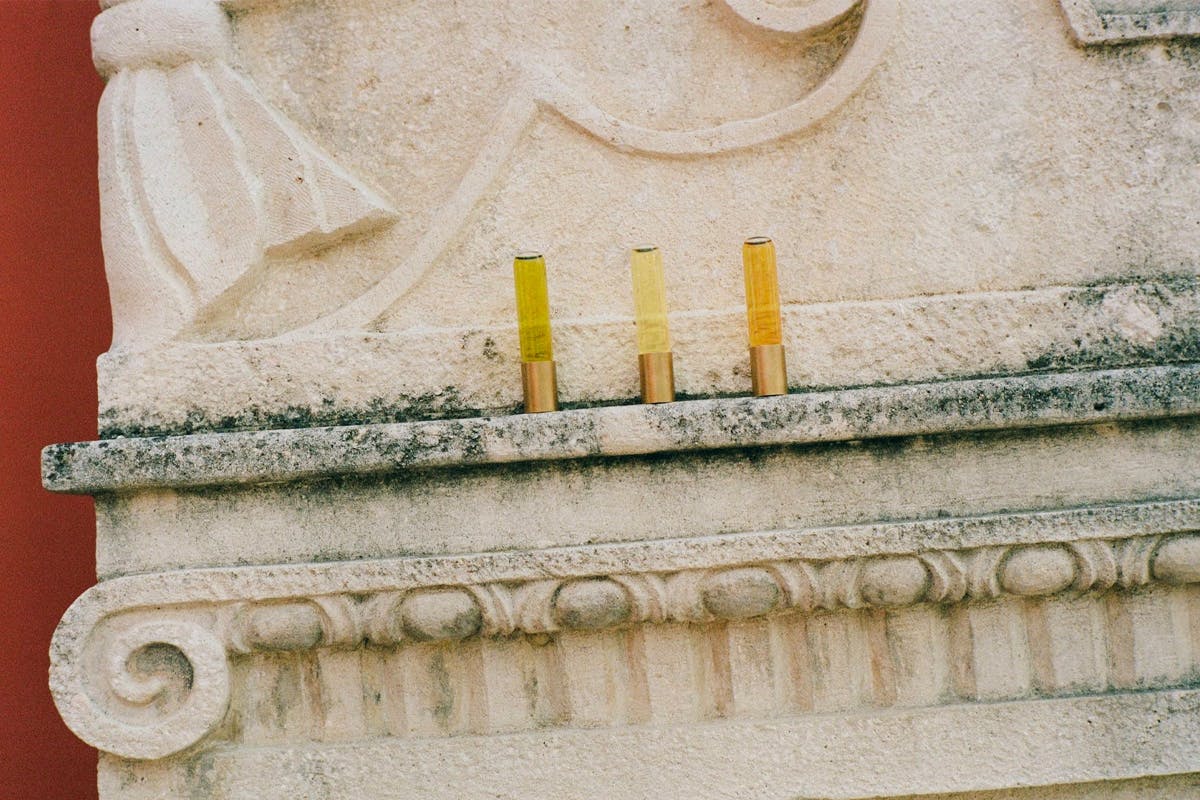 "I haven't, on principle. They're $500 roller balls — like, who the fuck are you?" Vernon quips. "I have talked to countless perfume experts, perfumers, and perfume evaluators. No one has been able to tell me why a single perfume, especially an oil, would be that much money."
With a purse full of blotters, I depart Vernon's, my mind racing. Her humorous disavowal of The Row's rollerballs has me wondering: who the fuck am I? But that's the power of fragrance: to not only express one's personality but also project a desired image. Today, it's the Olsens. Tomorrow, it might just be me.
Shop our favorite product