Last year when Italian side Venezia FC dropped its kits prior to the 2021/22 season, it marked a new era for the club, which was returning to Serie A for the first time in twenty years. And while the season ended in hard-fought relegation back to the second tier, it did deliver some of the greatest kits in memory.
Ready to adapt to life in Serie B, Venezia recently revealed both its home and away strips for 2022/23 – and, well, they're even better.
Blending tradition and modernity, the home kit boasts a black base with the club's signature green and orange trim on the collar and down either sleeve, while the away strip – which "completes a ying-and-yang relationship with the home shirt" – comprises a light cream base with orange-and-green stripes.
Now, ahead of Venezia's 2022/23 campaign which kicks off against Genoa on August 14, I Leoni ałati is ready to present its third and final kit of the season, and it doesn't disappoint.
Clad in luxury tones of gold, the kit – which is available online now – is a homage to the city's gilded churches, monuments, and palazzi, and the overall historical significance of gold in Venetian art.
"The home is always going to be black, the away is always going to be light, so you're looking to do something alternative with a third shirt," Ted Philipakos, the club's Chief Brand Officer, tells Highsnobiety.
"This season, we felt like gold was a logical direction, as a natural extension of our visual narrative. We frequently use gold from our kit embellishments to other visuals, in part as an homage to the historical significance of gold in Venice, and earlier this month we presented a new visual identity that featured the lion of Saint Mark being returned to its traditional gold, so it made sense and the timing was right."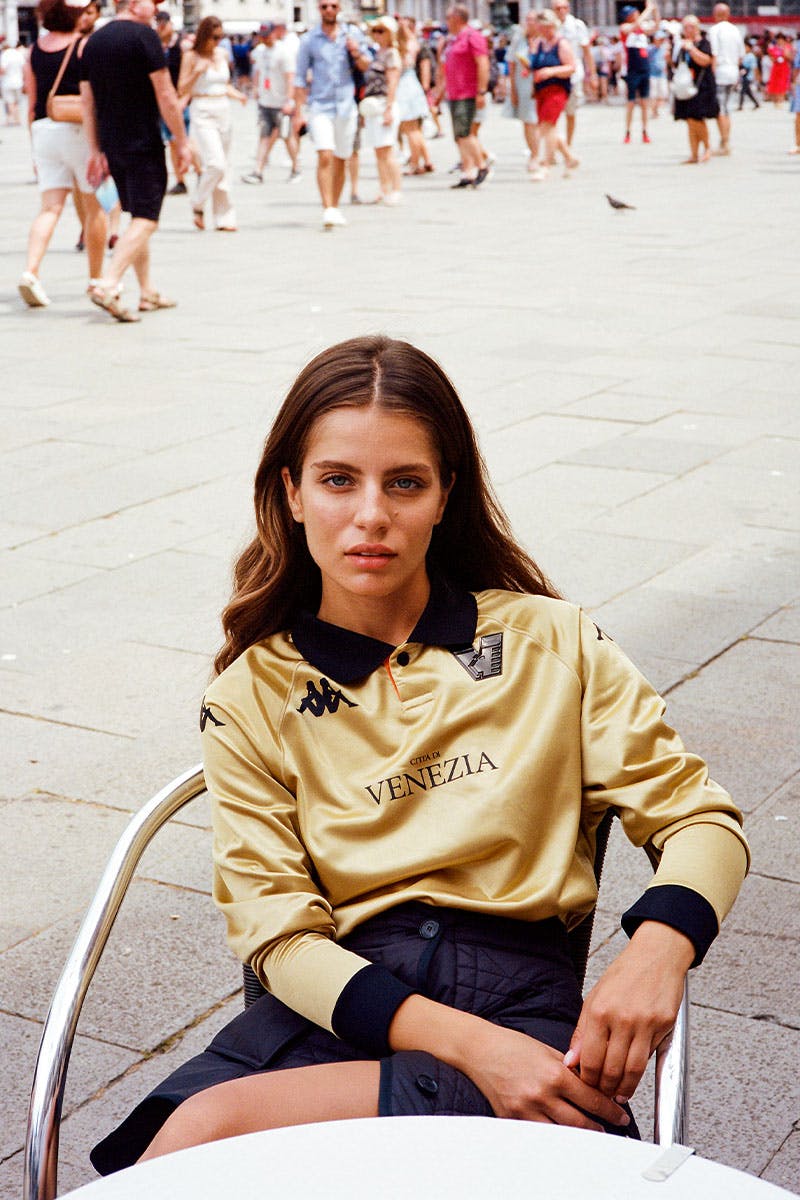 While the vast amount of coverage Venezia has garnered for its kit in recent years is almost unheard of, Philipakos believes it's a just reward for the unique creative approach the club has taken.
"There are a lot of template shirts out there, which is anathema to us," he explains. "We left Nike for Kappa in part because we like Kappa as an Italian brand with a rich heritage and a strong production capability, but above all we made the switch to gain full creative control, and that was a critical move for us."
"Where some clubs may depend on agencies, we direct everything ourselves, from the design process to the editorial campaigns and so on. We have a clear idea, and we feel the club and the city in a way that someone outside couldn't possibly, and I think that kind of ownership ultimately comes through in the work."
While ultimately league position and on-pitch performances will determine the future of Venezia, Philipakos and his team like to focus on what they can affect. And when it comes to an on-pitch uniform, there's only one thing he aims to do.
"We want to be an ambassador of the city. To represent the Venetians well, and to serve as a gateway to the city for countless people from abroad who are genuinely interested," he states.
"We want to harmonize the local and international dimensions of the city, bringing that together and creating something stronger than before, so that a small club from a small city with a small stadium can feel an outsized significance and punch above its weight."
"We found it weird that there was this expected shame that was supposed to come from playing below Serie A, and we just never felt that way," Philipakos continues.
"I don't care what division we're in, we're going to go hard. So, the art direction, the photography, everything had to be on point and communicate a higher level than where we stood, to shatter the preconceived notions.
"Now you're seeing the lines blurred: our 2022/23 collection in Serie B has significantly outsold 2021/22. More and more people are focusing on who we are, not who we play."