A hero, according to literary critic Joseph Campbell, is someone who has given themselves to something bigger. Campbell's monomyth outlines the steps to the traditional heroic narrative, which tends to be the structure we use to tell the stories of exceptional people in both literature and the real world. We also tend to look at our own life stories in a similar way.
While there are 17 steps to the journey, it is divided into three acts. First is the separation, where the hero sets out on an adventure, sometimes reluctantly because they're called to do something great. Second is the initiation, where the hero arrives into their own; this is the stage where most of the development and action happens. Then finally, the hero returns after completing whatever they set out to do, elevated by the adventure.
Tremaine Emory, who recently became the creative director at Supreme and whose fashion brand, Denim Tears, is releasing a second collaboration with Levi's, sees his life story in that same arc. For our Zoom interview last week, he called in from his office in New York, a city that he had grown up in and left to make a name for himself. Naturally, the idea of returning — the third stage of the hero's journey — kept coming up.
Emory was born in Atlanta, Georgia to Tracy and Sheralyn Emory. His father, Tracy, had been in the military, and then worked at CBS as a TV news cameraman for 38 years. Soon after Emory was born, they relocated to Jamaica, Queens, along with his two brothers. Emory likens his family to a small village, nurtured by the knowledge and culture that his parents passed along. Their main message was the idea that there was more to the world than what was directly around them. What Emory is trying to do now in fashion is what his parents did for him when he was young, which is to bring the Promethean fire, the knowledge, back to the people.
"[They were] more progressive than the place they came from, but [they] also maintained and valued the things they learned from their small town in Georgia," Emory says. "Seeing things that aren't there and going out and finding them, and sharing them with us and helping us grow as three young Black boys in the hood."
His parents' curiosity and drive sparked a sense of adventure in him, but it was a tragedy that pushed Emory to finally leave New York. After his friend and barber Rahim Grays was robbed and killed, he was in despair about the conditions of the world around him and his place in it. It was Grays' death that also led Emory to grow out his hair, making his locs a sign of his grief. When asked about Grays, he is mournful, as if the event is still fresh in his mind.
"I'd known many people that had been killed, murdered in my neighborhood before him. And not that his murder was more important than anyone else's murder, but just for me, the timing of it, him having a daughter and a mother that he took care of and him just starting his own business," Emory says. "He's the first young Black person I knew personally to start their own business that was in my age bracket. [His passing] just took it out of me."
After leaving NYC in 2010, he went on an adventure, the second act of the hero's journey. He moved to London and worked for Marc Jacobs for nearly a decade, became a creative consultant for Kanye West for two years, and founded Denim Tears in 2019. He's worked with brands from Stüssy to Asics, and individuals like West, Frank Ocean, and his recently deceased good friend, Virgil Abloh.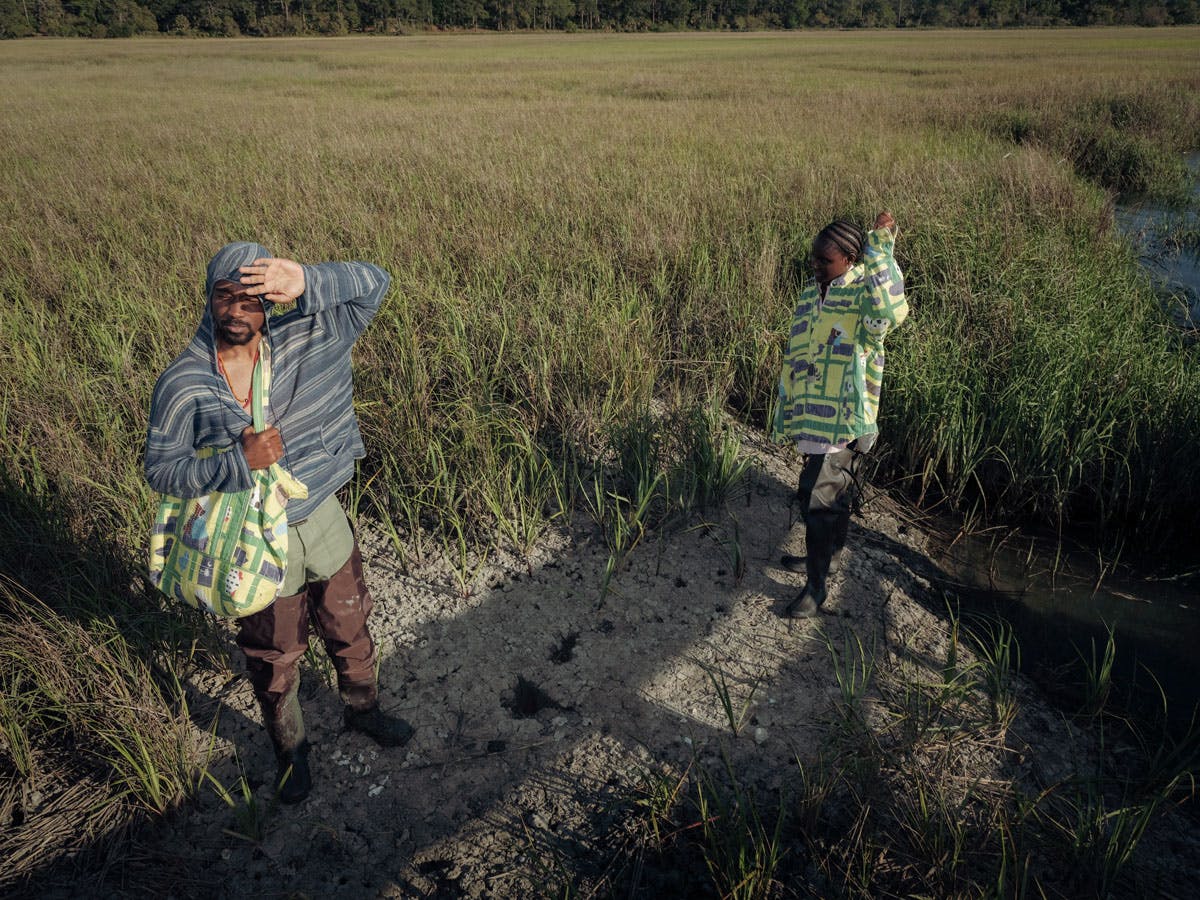 The first Denim Tears collaboration with Levi's was released on the 400th anniversary of slaves arriving in America. The clothes were adorned with cotton wreath prints, symbols of the country's bloody history. It was an interesting project, one with one of the most All-American brands, and at a time when that history was being suppressed. When asked about the process for that first collaboration, Emory explains that he was guided by the wreath itself.
"When I went to Levi's about three, four years ago to meet with them, I only had one design. I didn't have a plan B. It was the cotton wreath, this emblem symbol that I adopted and created," he says. "That was the plan to put that on the jeans, and that was the only plan. The wreath guided me to the design and to the storytelling behind it."
With his return to New York City came the second collaboration with Levi's. The basis of the second collection, which is releasing on July 26, is the indigo slave trade. In the 1700s, indigo was used as a currency, and it was worth more than sugar and cotton. The original American flag was made with indigo textiles, a horror that shows both the brutality of America, and how that brutality is a continuation of European colonialism.
Emory cites the film, Daughters of the Dust, as inspiration. In the film, the starring matriarch's hands are dyed indigo from when she was a slave. The stories in the film are told by the Gullah Geechee people, descendants of enslaved Africans who were brought to North Carolina, South Carolina, Florida, and Georgia to work on the rice, cotton, and indigo plantations. This is where the all-over indigo hands print of the Denim Tears x Levi's collab comes from.
The quilted yellow and green print tells more stories of the slaves. On it are black silhouettes of the United States, Africa, and a cotton plant. Along with those silhouettes are images of a red-roofed plantation house, an all-white church, and the image of a Black woman in white and blue holding up her indigo-colored hand.
To coincide with the collaboration release, Emory produced a short film starring chieftess Queen Quet, one of the Gullah Geechee people like the protagonists in Daughters of the Dust. Speaking about the resources that he's provided to go with the collection, he emphasizes that the greater goal isn't just to sell clothes, but to provide knowledge.
"I can't just be putting this stuff on clothing without any context. You could choose to ignore it, but the context is there and the road signs to the knowledge. I'm giving you Queen Quet. You could literally go down to St. Helena and learn from her if you want to. I'm going to post a book that I learned about this stuff [from]," he says. "That's the thing about Denim Tears. Y'all ain't got to buy the clothing. Y'all could just go get the book. Or watch the movie or meet the person."
Providing knowledge after a return is part of the last act of the hero's journey. Emory says that he might be in that last act now and hopes to relax in a few years and settle down with a wife and kids, to find peace after working so hard to make his way in fashion. The way he works is unsustainable, according to him.
The trick would have been to have found peace in the beginning, but that is a privilege not often afforded to Black people. His parents for example couldn't have that peace. His father had to become an Emmy Award-winning cameraman in order to raise his three kids, and even with that success, he could still only buy a house in St. Albans in Queens, because all of the good ones were either unaffordable, or white landlords wouldn't sell to him.
During our conversation, Emory recalled a moment when a white person he used to date asked him when he was finally going to make time for himself, to stop working so hard. "I had to do extraordinary things to end up in this position," he says. "I couldn't be mediocre. I wish I could have led a peaceful, mediocre life and be able to pay my bills. But Black people who are mediocre, they live in fucking absolute poverty and end up in jail."
When I tell Emory that the consequences of failing while Black is much more severe than it is for others, he agrees, and goes on to write it down. But with as much pressure as he feels, he still hopes that this collaboration, his return to New York, and this stage of his life, can help him get to the last act of his journey. For now, and until the narrative is complete, he wants to continue pushing the fashion world forward, through design and knowledge.
"Knowledge and drip. I just want to make shit that looks great, that has some meaning behind it. That's it."
The second Denim Tears x Levi's collaboration is available now on denimtears.com.