NFTs and celebrities were practically made for each other. More often than not, what makes an NFT successful or drives its price up is the name or clout attached to it, which is where the usefulness of celebrity comes in. Though they've been around for years at this point, it was only in 2021 when NFTs became a phenomenon and a household concept, pushing many famous people to adopt them as a promotional tool. But with that came a slew of too many famous people NFTs, and arguably not all of them good. Here, we round up some celebrity NFTs that aren't lame, and actually worth looking at.
Paris Hilton, Superplastic DAYZEE NFT
Somewhat surprisingly, Paris Hilton has been making NFTs since 2019, long before last year's pandemonium. What's more, she's been investing in crypto for over six years now. Like many NFTs on this list, her first NFT from 2019 was dedicated to charity. Her latest is a collaboration with Superplastic featuring the character DAYZEE, a leather pants laden internet celebrity who engages in all types of no-good — somewhat reminiscent of early '00s Paris. Hilton also recently participated in RTFKT's Nike Air Force 1 NFT project.
Edward Snowden, Stay Free
On the more random side of the "celebrities" who have gotten into NFTs is Edward Snowden, the famed whistleblower and international persona non grata. The NFT, called "Stay Free," is a mosaic of US appeals court decision pages assembled to form an image of Snowden's face. It's not without cause though, as all of the profits from the NFT (which sold for about $5.4 million) will go to the Freedom of the Press Foundation, of which Snowden is president.
Grimes, WarNymph Collection Vol. 1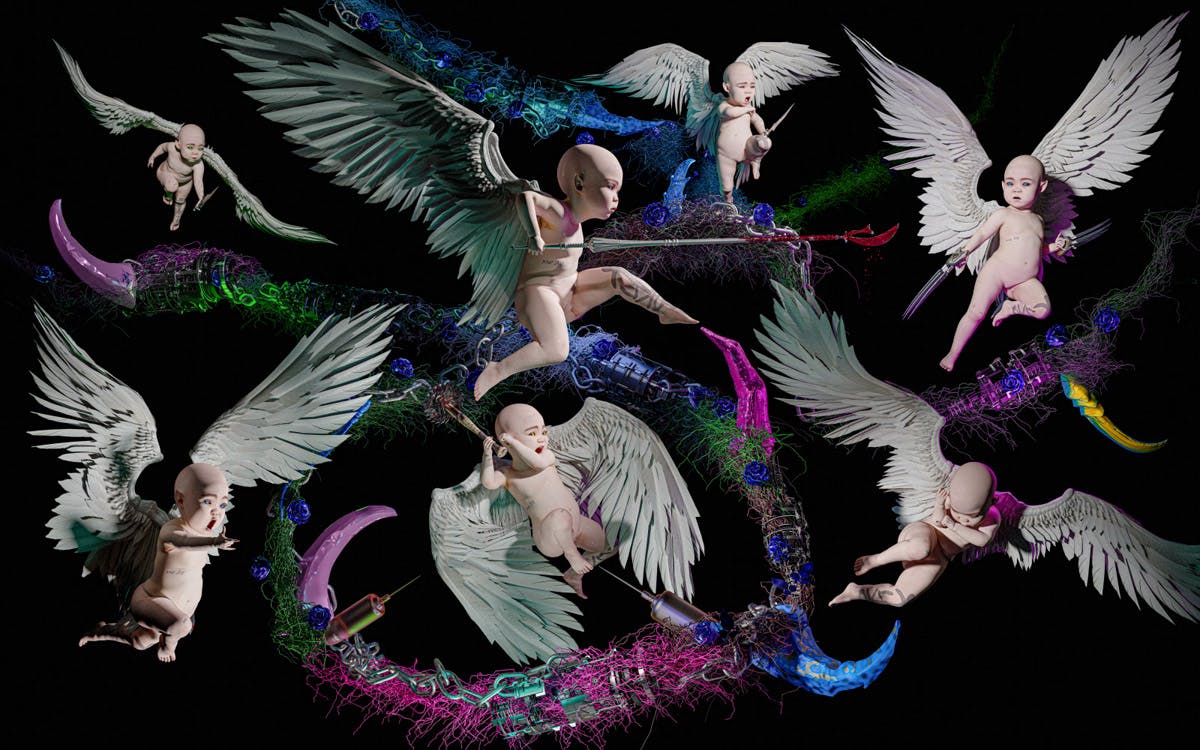 Grimes was one of the earlier artists to invest in NFTs, back in March of 2021 during the initial boom. She released a series of 10 pieces that included the video, " Death of the Old," which sold for almost $400,000, and featured an exclusive song. In addition are two video works "Earth" and "Mars" that also include original music set to a desert landscape populated with cherubs, a castle, and a giant sword.
Kate Moss, Episode 1: Kate Moss
Kate Moss' triptych of NFTs entitled "Episode 1: Kate Moss" shows her going about her day to day activities — driving, laying in bed, and walking, for instance. Each exclusive piece is also accompanied by an audio recording of Moss that acknowledges the buyer.
Bella Hadid, CY-B3LLA
Bella Hadid has looked to immortalize her beauty with the launch of CY-B3LLA, a series of 11,111 NFTs that are based on 3D scans of the supermodel's face and body. As yet unreleased, the series was supposedly inspired by Hadid's obsession with video games that burgeoned during COVID lockdown. Each CY-B3LLA will be inspired by one of 10 different countries in which that particular NFT was designed. In addition, the NFTs will unlock undisclosed digital assets, the full details of which are set to release in the coming weeks.
ASAP Rocky, RICKY GATEWAY
In anticipation of his 2021 single, "Sandman," ASAP Rocky released a collection of seven NFTs, "RICKY GATEWAY," on — as you might have guessed — Nifty Gateway. The collection includes 3D figures of him, exclusive snippets of then unreleased songs, and three literal rally cars from his 2019 "Injured Generation" tour.
Madonna x Beeple, Mother of Creation
Madonna teamed up with arguably the most famous NFT-based artist, Beeple, on a triptych of NFTs about creation and motherhood, called "Mother of Creation." In layman's terms, the three video works depict a 3D rendering of a fully nude Madonna-esque figure in various settings (a lab, the wilderness, and some sort of post-apocalyptic city) spread eagle and giving birth, again to a variety of objects (a tree, butterflies, and mechanized caterpillars). All proceeds from the sales will go to charity.
Dolly Parton, The Dollyverse
NFTs are generally looked upon as a young person's arena, but Dolly Parton is looking to change that with her entry into the metaverse. The Dollyverse, as she's deemed it, is an "audience-centric" Web3 experience in which fans of Parton will be able to buy web exclusive content, like her album Run, Rose, Run, and other Parton-focused NFT artworks.
Snoop Dogg, The Snoopverse
When it comes to being involved in Web3, few artists have been as involved as Snoop Dogg. From forming his own DAO to creating his own metaverse — the Snoopverse — in Sandbox, Snoop has taken an unofficial leadership role in the blockchain. This spring, he collaborated with Clay Nation to release an NFT on Cardano, which featured 10,000 digital figures that were algorithmically constructed to feature handcrafted clay attributes.
Marina Abramovic, The Hero 25FPS
In a continuation of the artist's use of new forms, Abromavic has turned her video, "The Hero from 2001," into 6,500 unique NFTs. She did this by going through the film frame by frame and pulling out 6,500 unique images. Each NFT costs 150 Pounds, and a percentage of each sale will go towards Abramovic launching Hero Grants, a project that intends to help fund projects in the Web3 space.