It's roughly been roughly a week since Beyoncé dropped Renaissance. I know, it's crazy, right?
It feels like it's easily been a month since Beyoncé graced the world with her confident disco hits and ballroom-worthy bops. Like the Bey Hive, I haven't been able to stop listening to Renaissance myself ("Alien Superstar" is my fave right now).
Since its release, Beyoncé's Renaissance album was met with much-expected praise and even a little drama with Kelis and, uh, Monica Lewinsky. However, it was nothing a few album tweaks couldn't fix.
Nonetheless, the multi-hyphenate's album is still trending, especially after Bey told the world she prefers Telfar bags over Birkins and brought Madonna onboard for the "Break My Soul" remix.
Now, internet buzz is locked in on Queen Bey's album release party in NYC, which spun Renaissance three times, according to Questlove.
Dubbed "Club Renaissance," Beyoncé's bash brought out the biggest names in the industry dressed in their funkiest disco threads.
Donald Glover, Leonardo DiCaprio, Kendrick Lamar, Questlove, Janelle Monae, and Chloe Bailey were the few familiar faces on the star-studded guest list.
Since our invite was lost in the mail, join us as we look back at some of the grooviest looks from Beyoncé's Club Renaissance party.
Donald Glover…or Childish Gambino?
I'm not sure if I'm looking at Donald Glover or Childish Gambino here, but this look oozes of bustling night at Studio 54.
An iridescent jumpsuit? Male cleavage? The glamorous eye makeup? Wild or on-theme, Glover, or erm Gambino, was the moment at Beyoncé's Club Renaissance.
Tina Knowles
Mama Tina said, "I am the disco ball," opting for a dazzling crystal-embellished suit.
While her look already reeled me in, I couldn't help but stan her accessory choices: a handheld fan and scenic clutch.
Jill Scott
Jill Scott brought 70s flare to her black ensemble, flexing the era's vibrancy in her braids, bold lip, and Louis Vuitton Moonlight Half boots.
Janelle Monae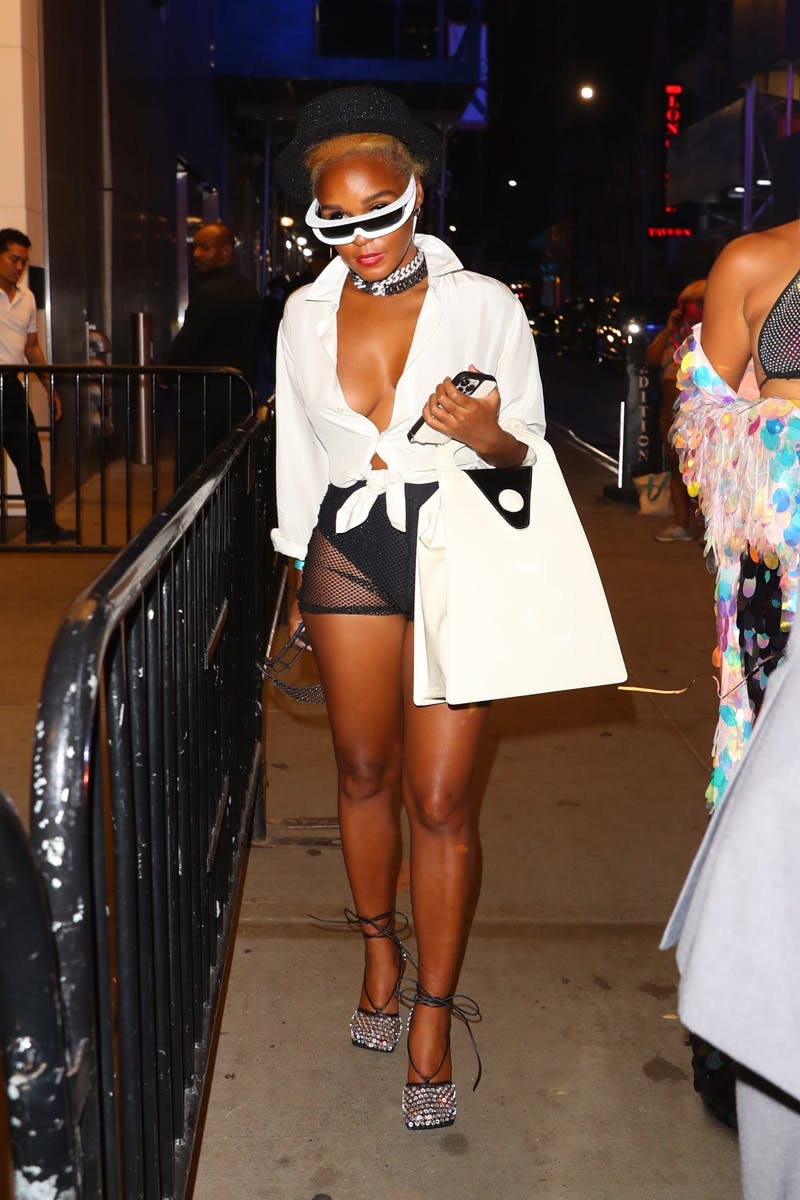 Underrated style queen Janelle Monae delivered another banger with a monochrome spin on the bash's 70s theme.
Need I say more? I think not.
Leonardo DiCaprio
Leonardo DiCaprio totally ignored Club Renaissance's fun retro dress code, opting for a humdrum all-black look topped off with white kicks.
To be honest, I'm just happy to see the A-list actor coming out of hiding just for Beyoncé (I'd do the same).
Kendrick Lamar
Fresh off the stage of his latest Mr. Morale and the Big Steppers concert, Kendrick Lamar had another impressive yeehaw moment at Bey's album release celebration.
With his Club Renaissance look, the musician elevated his black suiting with glistening Rocketbuster cowboy boots.
Not only does he satisfy Bey's Studio 54-esque theme, but he also passes the vibe check at the rodeo.
Yara Shahidi
Yara Shahidi's look was simply an all-around chef's kiss moment, from the shimmering colorblock plisse dress to the subtle Dior flex to remind everyone she's their global ambassador.
It's no wonder Miss Tina Knowles dedicated a solo IG post to Shahidi's look.
Tyler Perry
Like most of the guys, Tyler Perry, too, played it safe with a black 'fit foundation, enhanced by a thematic groovy paisley print and a chunky Prada boot.
Lala
After seeing Lala's gem-adorned bodysuit and boots, it's safe to say "Alien Superstar" is probably her favorite song off of the album.
Nonetheless, I'm here for Lala embracing her unicorn as her uniform ("Alien Superstar" fans will understand the reference).
Yahya Abdul-Mateen II
If we were still in the 70s, Yahya Abdul-Mateen II's silky smooth ensemble would earn him the title of a "bad mother-shut-your-mouth." It's just that good.
Chloe Bailey
No thoughts, just Chloe Bailey looking like the disco queen in this iconic gilded look and silver sneakers.
Trevor Noah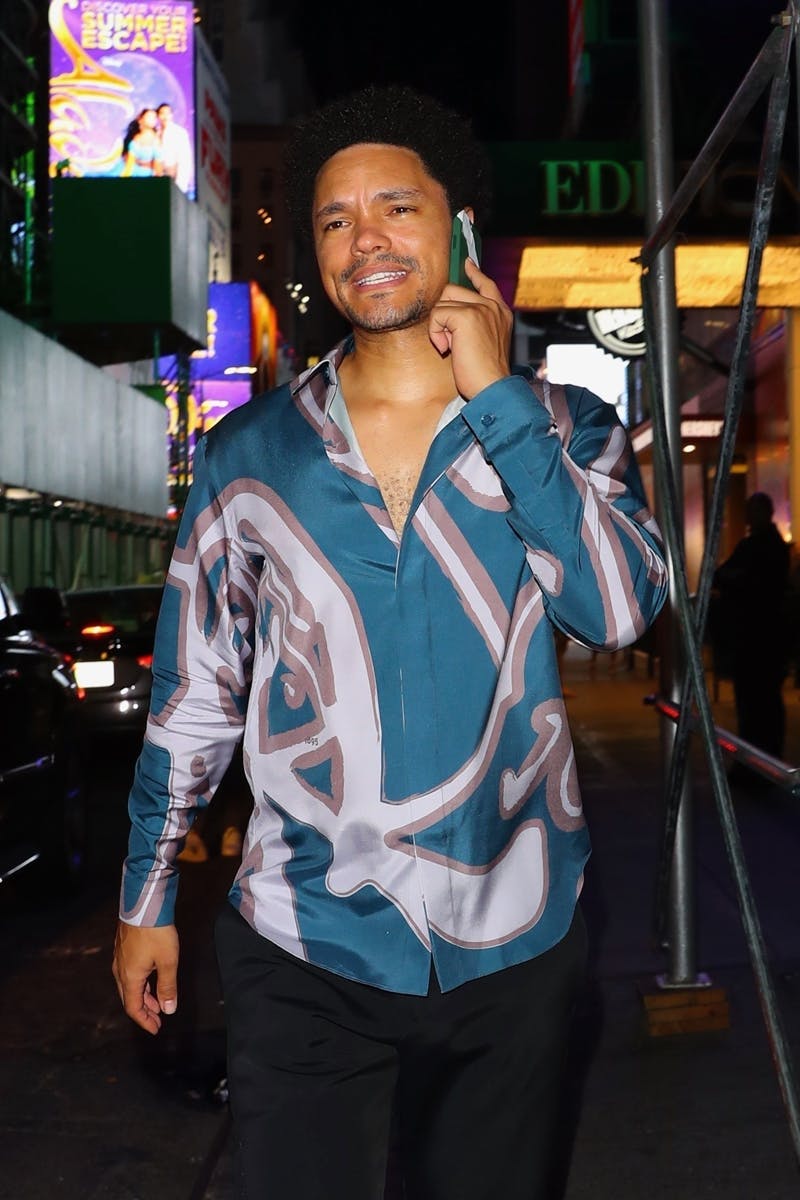 Blouse unbuttoned with a few manly chest hairs peaking out,  Trevor Noah let loose at Beyoncé's album release party in a tasteful far-out print shirt.
Even after Ye nonsense, Noah is living his best life with an invite from Bey.
Marni Senofonte
Bey's stylist Marni Senofonte channeled big disco energy (literally) with her gold sequin XXXL-flared sleeved dress and gilded pumps.
Perhaps, her golden look will manifests the award she deserves for styling Bey's coffee-table-worthy Renaissance rollout.
Shop our favorite products