Of all the stylish folks on Highsnobiety's radar, Tyler the Creator may dress the most consistently. Rarely ever has the musician not been spotted in a snazzy layer, cropped pants, and easy shoes over the past few years, yielding a truly inimitable silhouette all his own.
Not only does it work great for Tyler, mind you, but it also inspires the kids who've admired Tyler for the better part of two decades.
Just witness the sheer volume of Tyler the Creator inspo uploaded to Reddit's streetwear forum, for instance.
This is a guy who not only knows his preferred proportions but has the confidence to shape nearly his entire wardrobe to fit them within his personal stylistic purview.
For example, you don't see Tyler wearing edgy avant garments even when the opportunity calls for it.
Consider the times that we've seen Tyler dressed entirely in luxury labels at a fashion show.
Regardless of what brands he's actually got on, Tyler commonly dresses himself in a way that could potentially be imitated by savvy thriftsters, the epitome of style with substance.
Of course, that's a compliment. Really, the highest praise you can pay to someone is that they make clothing look easy.
If you're relying on the price tag of your clothes to do the talking for you, you'll lose every time. Money can't buy taste and Tyler's got taste to spare.
Return your gaze to the outfit below and let Tyler take you through a masterclass in uncomplicated summer steeze.
In it, we see Tyler again clad in clothing that informs his inimitable shape: relaxed torso, slouchy but short trousers, chunky loafers. Nary an obvious statement piece in sight.
This type of outfit is attempted by many a menswear amateur but they really oughta study Tyler's take on it so as to comprehend what exactly makes this work.
Take my class in outfit science as we break down this deceivingly simple look down piece by piece, so even the folks in the back can comprehend the intelligent design on display.
From the top, we're talking perfectly boxy camp collar shirt in a snazzy color, raw-hemmed just above the crisp white tee that breaks up the torso with distinct layers, blending seamlessly into relaxed green pants that Tyler has sitting right atop his tassled loafers and white socks.
This keeps the outfit balanced, instead of gaining any heft from pants pooled atop the shoes, and it's probably something Tyler picked up as a punkish skater in the aughts.
Tyler really owns this PSI (pant-shoe interaction) and its something that everyone from short fellas to giants can make their own with a little know-how — it's all about keeping the pants hemmed close to kissing the top of the shoes. Not too short, not too long, just right.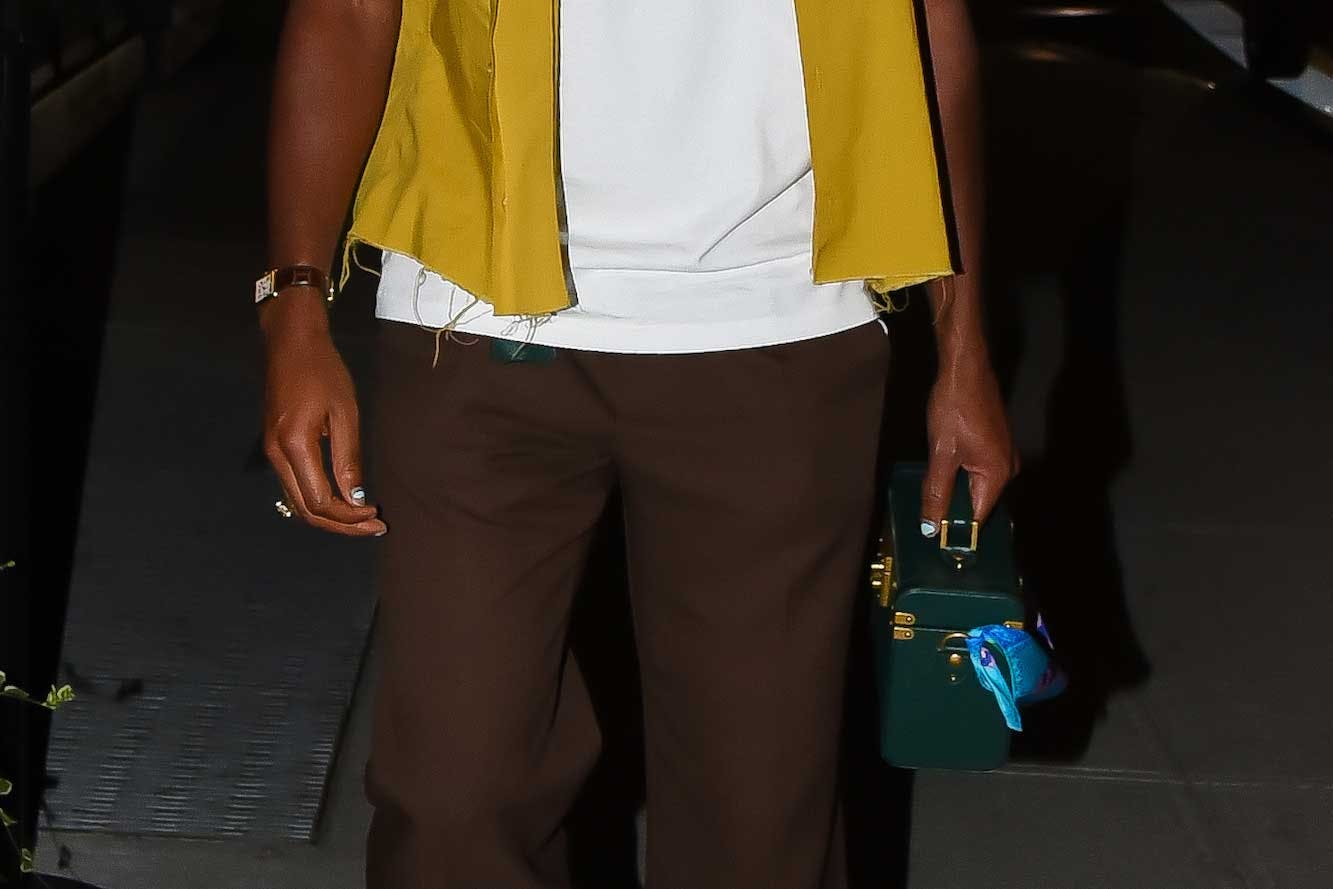 One last note about Tyler's accessories before we dismiss class.
This is the peerless proof that this guy knows what he's doing better than most of us, with a very deliberate selection of jewelry and bags taking Tyler the distance.
The minute Cartier Tank watch and solo ring hit that much harder when there aren't any other pieces to contrast against them but the real chef's kiss is Tyler's scarf-stuffed mini-trunk, a throwback piece that singularly illustrates Tyler's retro-chic style perhaps better than anyone one other piece of clothing.
So, class, what'd we learn today? How do you dress like Tyler the Creator?
Stop trying so hard, loosen up. Find the proportions that work for your temperament and your body, then stick with them. Wear the clothes, don't let them wear you. Accessorize with purpose.
And, perhaps most importantly, there's no greater flex than a well-considered outfit.