"When you walk outside, what's the first thing you notice on someone? Is it their clothes? Do you make eye contact…? It's always the hat." – Upscale Vandal
PUMA has tapped into the mind of cultural heavyweight Michael Camargo to launch "Hometown Heroes," a collection centered around three styles of cap. The headwear line was developed as a celebration of people who have earned the respect of their respective communities, either by giving back or living well as inspirational figures to those around them. The limited-edition drop also pays homage to the very roots of street and art culture, as well as PUMA's incredible sporting history. Referencing themes from '50s football to '90s basketball and 2000's action sports, Hometown Heroes will be supported by PUMA's own incredible lineup of Hometown Heroes. Namely Brazilian football sensation Neymar Jr, U.S. football player Christian Pulisic, and American professional basketball player Kyle Kuzma.
"Our clothes are an extension of who we are. I grew up in Brooklyn and New York City, and my creativity is fuelled by the energy from the streets and the people that live and breathe their hometown – this collection pays tribute to that. What we wear is chosen meticulously; because when we step outside, we want you to know what we stand for!" – Upscale Vandal
Mike, better known as Upscale Vandal, is something of a household name to those who have been in the streetwear game long enough. The luminary collector and consultant has a plethora of celebrity fraternizations under his belt and, over the years, has gained not only notoriety but credibility in the culture as well as the fashion industry at large. Outside of working with artists such as Pusha T, J Balvin, Santigold and French Montana (to name only a few) Upscale Vandal has played a role in developing major lifestyle brands such as Billionaire Boys Club, En Noir, Roc Nation and Bape.
Despite his accolades, Camargo prefers to work as the invisible hand in a majority of his consultancies and believes that being able to leave your mark on projects without needing to take direct credit is a skill in its own right. It is immediately evident that his specific styling and flavor form the basis of the Hometown Heroes collaboration and it's refreshing to see how brands such as PUMA are working with artists in such a natural and authentic way.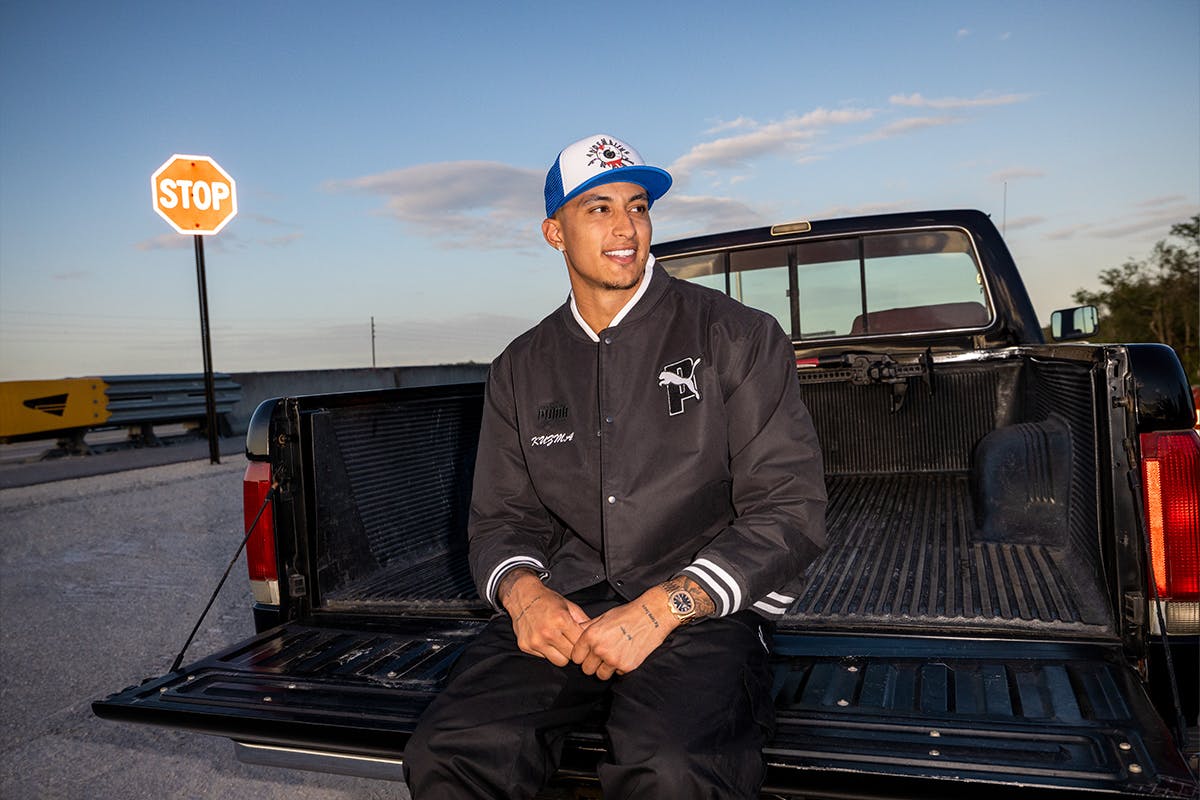 According to PUMA Head of Design Accessories, Sara Rosina "The attention to detail that has gone into this new collection is extremely exciting. From the references in the main graphics, to the hidden messages under the visor and even a set of pins, which fans can use to customize their headwear to their style. We really wanted to push the boundaries and explore different ways of creating products that tell unique and personal stories."
Learn more about PUMA's Hometown Heroes here