Tom Sachs, Nike, and sold-out sneakers. Name a more iconic trio. Though Sachs' new General Purpose Shoe instantly vanished upon release in June 2022, they're back and better than ever come September, launching in the yellow "Archive" colorway as part of an expanded drop program.
Everyone knows that Tom Sachs' original Nike Mars Yards remain one of the most sought-after Nike collaborations ever, even after several subsequent drops (though they were hardly any less popular). The General Purpose Shoe (GPS) is poised to be the exact opposite.
Sachs has a vision of a sneaker that's attainable for everyone, the kind of shoe that can be purchased by anyone at any time and worn for years to come. Right now, the GPS is insanely hard to come by, but that's not gonna be the case down the road, or so Sachs says.
"To some the GPS still represents an elite shoe that will be impossible to get, but we want our community to know that the GPS is here to stay," Sachs told Highsnobiety in early August.
"It's been crafted for a wider audience, for seasons to come. This is not a men's shoe, or a women's shoe; this is a universal shoe."
Before the "Archive" General Purpose Shoe drops for $110 via Tom Sachs' website on September 1 and Nike's SNKRS app on September 2, we elected to go hands-on with the sneaker, getting up close with one of the year's most sought-after footwear releases.
Seriously, this thing is incredibly in-demand: according to StockX, over 300 pairs of "Archive" General Purpose Shose have sold in the past three days alone — and the shoe isn't even officially out yet!
There've been fakes, dupes, and leaked imagery, but nothing could've prepared us for the immense hype that made Sachs' GPS sneakers perhaps the most coveted mainline Nike kicks since, I dunno, sacai's Nike collab?
Similar to those shoes, the General Purpose Shoe is surprisingly beefy when you get it in-hand. Perhaps it's all the featherweight runners we've been wearing over the past couple years, but we weren't expecting this level of heft.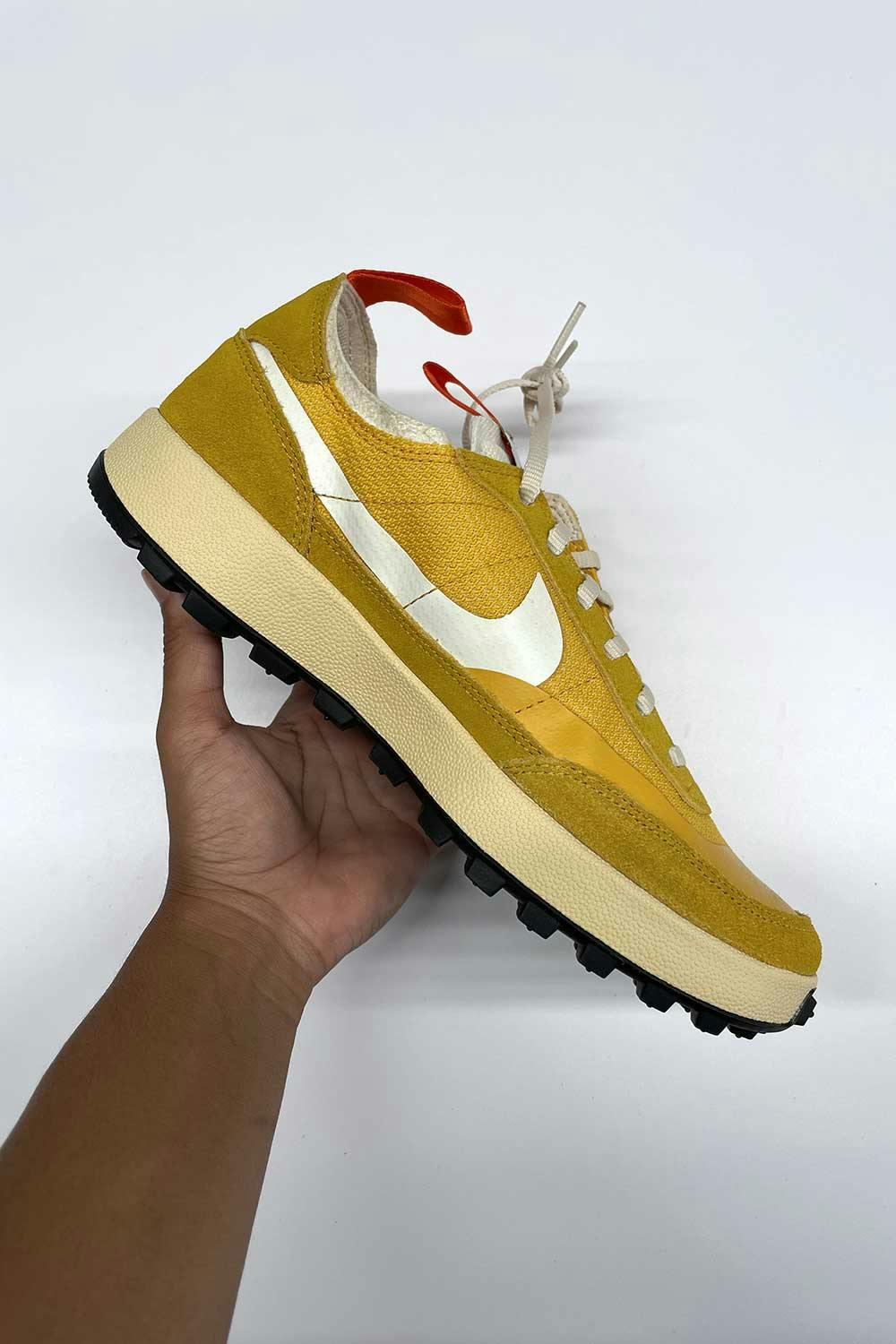 Not that the GPS is truly "heavy" by any means, though. It's got a bit of extra beef coming from that meaty midsole and lugged outsole but, really, I'd just describe the weight as "satisfying.
Sachs' new shoes are also quite understated IRL. Again, no big surprise there — remember that these have been gleefully marketed as "boring" — but the tonal yellow panels really blend together in-person, interrupted only by the red pull tabs and contrasting white Swoosh.
Similarly, the rubberized reinforcement paneling that encircle the toebox, the woven upper, vertical stitches, and even the glossily-printed Swoosh itself lend the lo-fi General Purpose Shoe a strangely satisfying tech-y feel.
These aren't some new ACRONYM collab, obviously, but they aren't as understated as a Killshot.
Inside, there's a fluffy suede that's surprisingly thin, emphasizing a jutting pillow-like heel cushion that may just be the sneaker industry's solution to blisters (besides thick socks, of course).
Tom Sachs' stylized text is GPS' only real graphic flourish, with his handwriting appearing behind the tongue tag, embossed on the heel, and even rendered on the black waffle sole.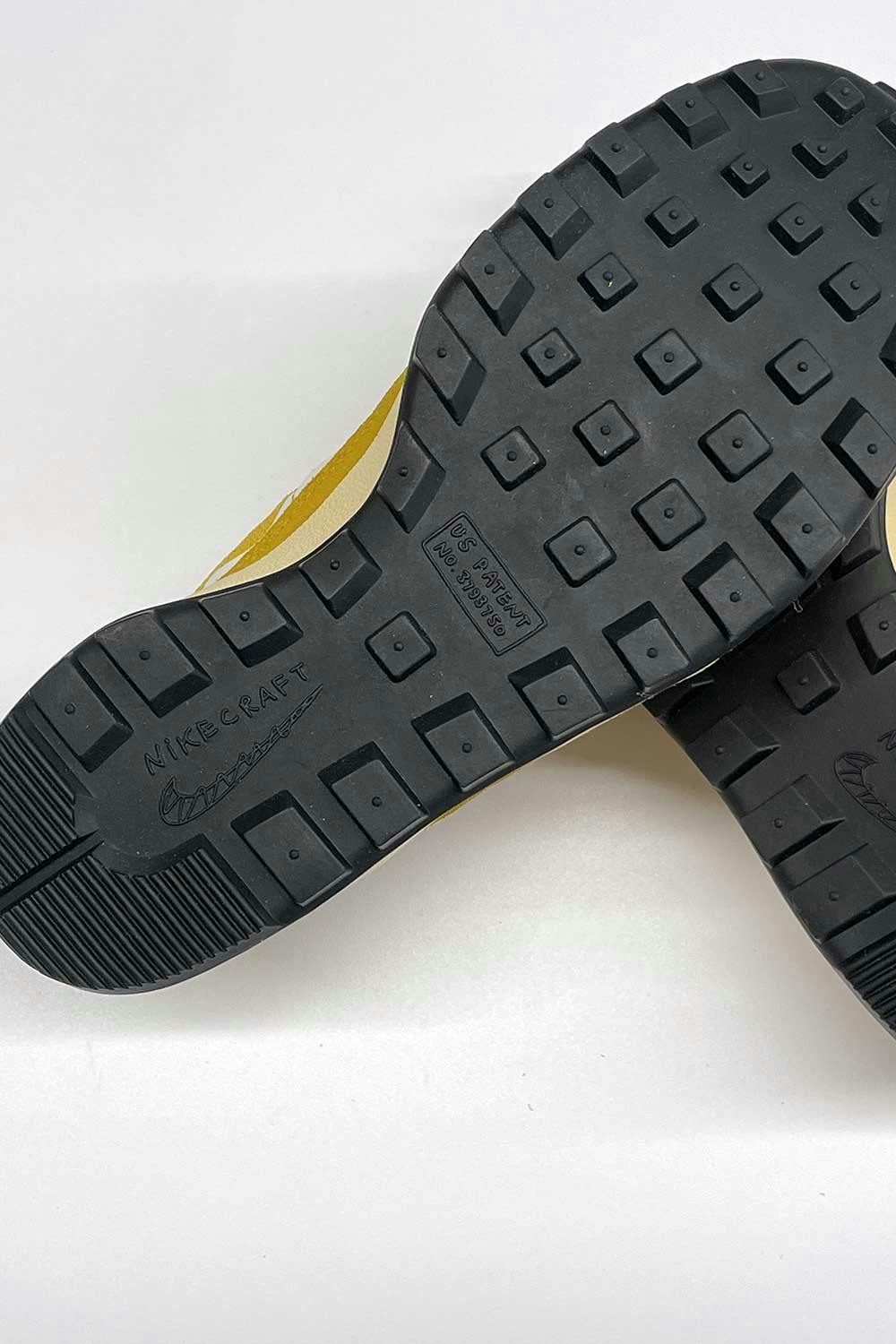 So, there you have it. The perfect every day shoe.
Having intimately studying the GPS sneakers inside and out over the past couple days, I have to say that I'm both underwhelmed and impressed. I can't shake a sense of facelessness, that these objectively attractive sneakers are inherently too tame to get truly excited about, for instance.
But, on the other hand, that's really not a complaint, especially for anyone seeking the ultimate do-anything, go-anywhere sneaker.
The aforementioned sacai Nike sneakers are a good comparison. Like Tom Sachs' GPS, they were red-hot selling at shocking speed.
However, Nike and sacai eventually hit mass saturation by simply dropping more shoes. The secondhand market buckled, people who wanted the shoes got 'em, and the hype cooled. It was a pleasantly egalitarian release strategy.
I could see Nike exploring a similar strategy with Tom Sachs' GPS sneakers, eventually issuing enough colorways and variations that they become accessible to everyone, as Sachs seemingly envisions.
If so, it'd be a best-case scenario for these utilitarian shoes, making up for their prosaic appearance with admirable approachability.