If I had a dime for every "minimalist" footwear brand on the market, I'd have enough money to buy a more compelling pair of sneakers. However, SUNCORE is not like the others. The young Japanese label is actually making some cool shoes, meshing minimalist sensibilities with a dash of personality.
Founded in 2019, Tokyo-based SUNCORE has explored unconventional normality since its inception. That is, SUNCORE takes rote sneaker silhouettes and refreshes them with premium materials, thoughtful accents, and useful closures.
You've seen runners that look like these already. You just haven't seen them made this well.
Reflector panels, waterproof nylon, water-fighting suede, toggle quicklaces, Vibram soles: SUNCORE makes shoes to last.
What's appealing about its oeuvre isn't that SUNCORE is reinventing the wheel, as I've said already. It's more appealing to consider just how SUNCORE is combatting sneaker staleness with intelligent design cues.
SUNCORE offers on any given season, for instance, hiking shoes with sandal-like heel straps, Boston-like mules with technical straps, moc-toed Wallabee-likes, and technical running shoes with intricately layered uppers that stack mesh and leather to create a breathable, wearable shape.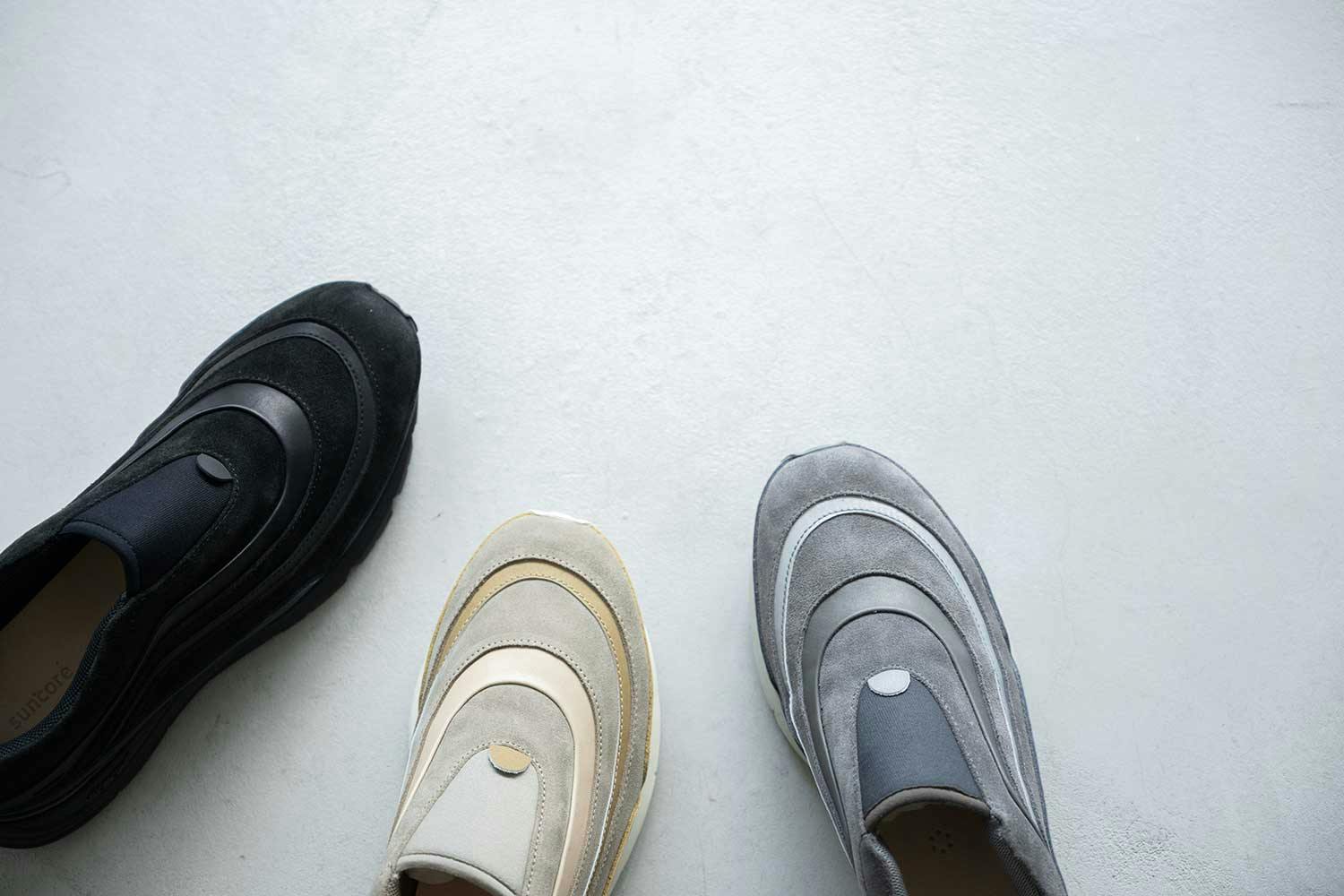 Weirdo touches abound, like the tent-inspired leather panel that stretches across the CAMP1 Tarp and a treaded outsole that gives a deck shoe extra bite.
Several similar styles return for Fall/Winter 2022, alongside new makeups that look like laceless Air Max 95s and branding-free New Balances.
I don't mention those more famous counterparts to play up claims of imitation or anything like that. The point is that these sneakers are designed as mutations of pre-existing models, taking the stuff that works from famous shoes and tweaking it to make things more dynamic or to solve a problem, all in a palette of black, grey, white, and dusty beige.
There's a method behind SUNCORE's minimalist madness and it's to keep things approachable, accessible, and interesting.