It's not fall 'til Donald Glover says it's fall. Childish Gambino himself was spotted taking a stroll through New York's Tribeca neighborhood on September 18, making the most of the still-warm late-summer weather with the piece of clothing that's become his signature: short-shorts.
Tiny inseams aren't a recent phenomenon, of course. Patagonia's five-inch Baggies have been trending for several years now, for instance, setting the standard for a tiny trouser trend that's beginning to give way to knee-scraping pants that can barely be called "shorts."
Meanwhile, what Glover is wearing could very well be the dictionary definition for shorts.
It reminds me of the famous story that Anthrax bassist Scott Ian tells of Motörhead singer Lemmy Kilmister's tiny shorts.
To make a long (and amusing) tale short, Lemmy didn't consider long shorts to be shorts: they're pants.
It's a fair point. If it's hot or even mildly warm outside, why bother wearing anything restrictive? Why allow fabric to cover up your body when wearing less will always feel better?
Donald Glover gets it. Hell, Donald Glover epitomizes it, like when he went out for a jog earlier this summer wearing barely anything at all.
It Was July in New York! There's nothing better to wear than as little as possible.
Glover makes it look easy, too. He's been spotted out and about with his short-shorts on many an occasion, effortlessly pairing his miniscule inseams with relaxed sweaters and shirts.
In fact, that's kinda been his uniform style as of late: lived-in sweaters and very abbreviated shorts.
Except for when he wore mesh to Beyoncé's Renaissance party, that is.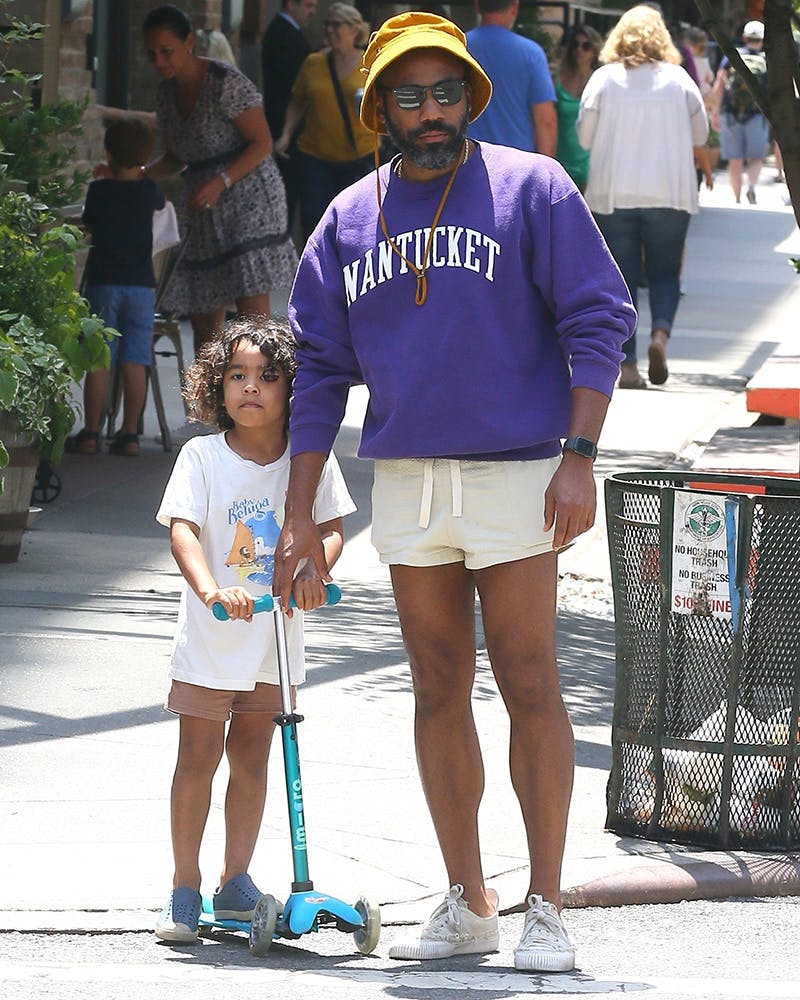 Anyways, Glover was basically rocking the same look on September 18 that he's been wearing all season, from the bucket hat and sunglasses to those unbothered little shorts.
Glover also slipped into a worn-out sweater and some beat-up plimsol sneakers (no New Balances, oddly). Simple, stylish, heat-resistant. What else could you ask for?