Who knew that Supreme and Yohji Yamamoto were gamers? Not I. And yet, here we are, as Supreme and Yohji Yamamoto are about to drop a second collaboration for Sup's Fall/Winter 2022 collection, complete with a random video game collab.
Back in late 2020, Supreme and Yohji Yamamoto partnered for the first time, dropping a comparatively concise selection of graphic T-shirts, knit sweaters, a spin on Yamamoto's signature black suit, and even a leather jacket that riffed on a coveted Yamamoto grail.
For FW22, Supreme is raiding the annals of Yohji Yamamoto Pour Homme, Yamamoto's mainline menswear label, to revive a few more archivist favorites and rework even more classic Yamamoto fare. They also got A$AP Nast to star in the promotional editorial, so there's that.
There's an all-over patterned suit that plays off of Yamamoto's predilection for printed sets, perhaps the most famous among fans being the inimitable Skull & Roses design that's been revived for a few recent New Era drops — Supreme's latest Yamamoto suit is a little slimmer than typical Pour Homme and sports a print laden with hidden Sup branding.
Elsewhere, Supreme brings on old pal Vanson for a collaborative moto jacket and pant set that hearkens back to both Sup's previous moto collabs and Yamamoto's own sporty leather designs, though the Japanese designer tended to stick with Dainese in the past.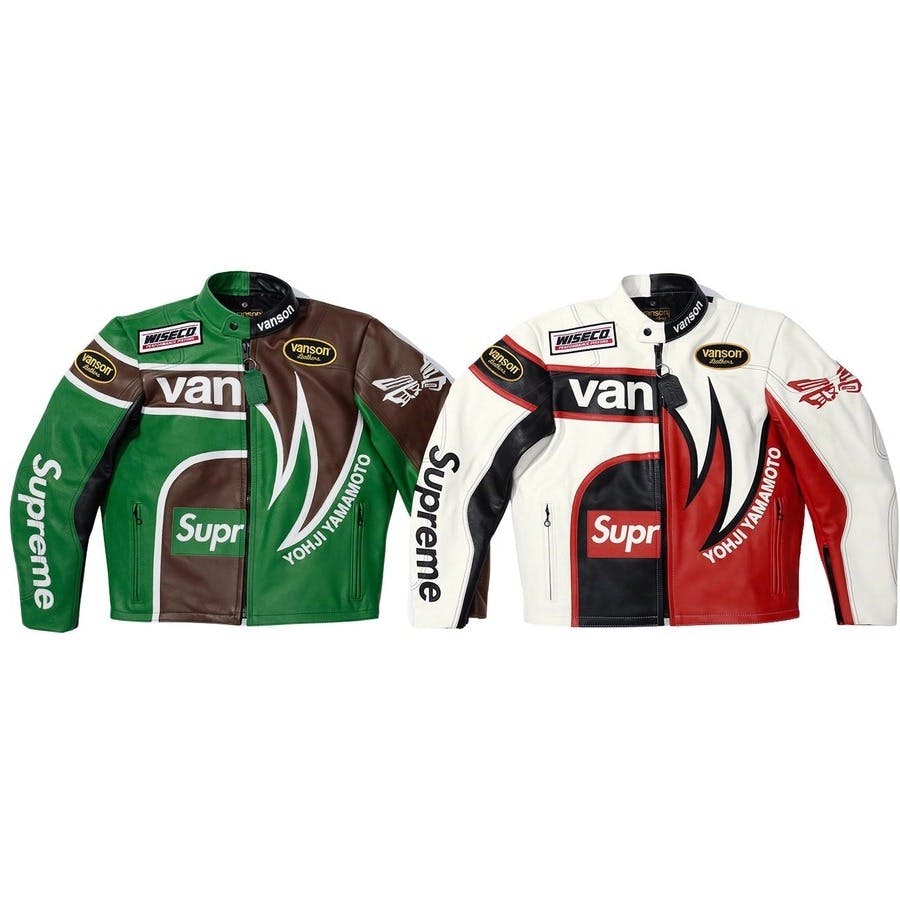 It's classic Supreme otherwise, with Yamamoto-themed bomber jackets, cargo pants (in faux fur!!), T-shirts, and even skate decks. There's also a three-way Dr. Martens 1461 collaboration, reflecting both Supreme and Yamamoto's longstanding love for the British footwear brand as well as their newfound fascination with multipart collaborations.
Things get really interesting when Tekken enters the mix, however. That's right, Bandai Namco's legendary fighting game series is inexplicably involved in the latest Supreme and Yohji Yamamoto collab, for no real reason.
But Supreme fans are exactly the kinda people to get hyped about a video game getting thrown into the collaborative mix so here it is.
And, frankly, the results aren't exactly jarring. You have three-way Supreme, Yamamoto, and Tekken branding mixing it up on yet another bomber, hoodie, T-shirt, skateboard, and even a giant blue puffer parka that really isn't very Supreme or Yamamoto but what the hell.
Perhaps the best bit is the all-over printed shirt that kinda recalls the amazingly weird graphic design of Yamamoto's early '00s work.
It's a little wearable and a lotta crazy and a pretty welcome change from collaborative efforts that end up being a little too safe for comfort.
Supreme x Yohji Yamamoto (x Dr. Martens, x Vanson, x Tekken)… drops on September 22 alongside a few other bits and bobs, including an aluminum domino set and engraved Zippo. Don't expect any of it to sit for very long, even the sure-to-be-pricey leather set.
Shop our favorite product