One of the many highlights at this year's Berlin Berlin was, without a doubt, the innovative collaboration between Crocs and the German DJ collective, Hör. With Crocs x Hör, we witnessed the marriage of the sonic world and our reality.
Set to the pulsating beats produced by Hör's DJs, the uniquely designed clog literally manifested before our eyes with striking visuals, creating one of the most memorable crossovers for everyone involved.
With another successful collaboration added to its portfolio, Crocs is still looking forward, trying to discover new ways to reimagine its classic designs. Now, with the help of the talented young designer Christian Cowan, the renowned footwear brand is continuing to evolve and expand past what was previously thought to be the limit.
Christian Cowan X Crocs is the latest installment in a line of collaborations that force the brand to stretch its boundaries. The 26-year-old Cowan brings a vibrant lens to design, as proofed by the amazingly eccentric pieces of clothing put together for his namesake brand. Pairing Cowan's modern and distinctive stylings with Crocs' characteristic silhouettes, the result is a show-stopping collaboration that infuses the unexpected with the classic.
Both champions of authenticity and self-expression, the partnership between Crocs and Cowan is a no-brainer. By being unafraid to take risks and embracing the unpredictable, Christian Cowan X Crocs is meant to disrupt the standard assumptions of each party in an attempt to foster a dialogue with consumers that gives way to fresh perspectives.
"We seek to work with creative partners who align with our values," says Crocs' Brand President, Michelle Poole, when asked about the collaboration. "With an eye for turning classic into something modern and unexpected, Christian used our iconic silhouettes as blank canvases for self-expression."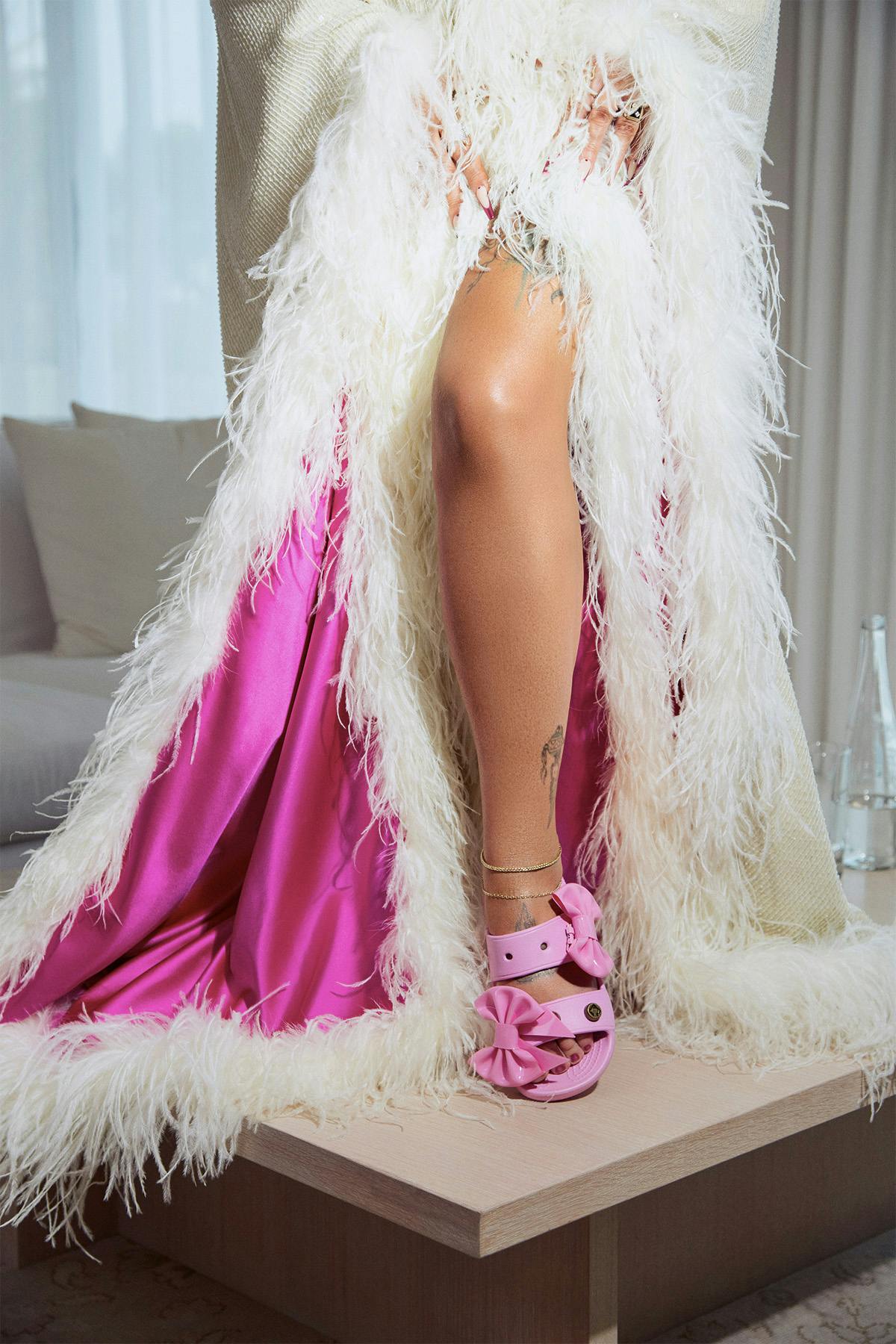 Having already debuted at Cowan's SS 23 runway show at NYFW, the shoes apply Cowan's signature aesthetic to Crocs' most recognizable clog and sandal silhouettes to create three standout designs that take customization to new heights.
Leading the line-up is the all-black Mega-Crush Clog that features enhanced rubber tread and heightened proportions to serve as the pinnacle of attitude and expression. The staggering 61mm tall shoe also debuts Cowan's custom Jibbitz™ charms. The detachable metallic chains can also be worn as a necklace that displays a Crocs pendant, mixing glamour with versatility.
The collection also showcases a pair of yin and yang-inspired clogs that feature the left shoe in black and the right in white with contrasting color straps adorned on each shoe. The exclusive style includes jeweled accents and metallic chains and proves that opposites truly attract.
To round out the collaboration, Crocs and Cowan took a fun and playful approach to the open-toed silhouette. The bubble-gum-colored Christian Cowan X Crocs Classic Sandal is fashioned with a twin strap upper made for around-the-clock comfort. Topped with custom oversized pink bow Jibbitz™ that doubles as hair clips, these sandals were crafted to make a statement.
"(This collaboration) is about our identity, a rebellious flamboyancy," says Cowan. "We wanted to make a full look with these shoes because, let's face it, Crocs are a full look."
In honor of this exclusive collaboration, Crocs and Cowan tapped an array of individuals like Michele Visage from RuPaul's Drag, Race Sonja Morgan from the Real Housewives franchise, Christine Quinn from Netflix's hit TV series Selling Sunset, and SNL's Chloe Fineman to help exemplify the authentic spirit of the collection. Additionally, portions of the proceeds from the collaboration will be donated to the Ali Forney Center to provide comfort and assistance to the LGBTQ+ community.
As Crocs continues to find new ways to innovate, the brand's latest collaboration shows that pure self-expression is still at the heart of each iteration.
The Christian Cowan x Crocs collaboration will be available on September 28 on crocs.com in the US crocs.eu in Europe, and on September 29th on crocs.co.jp in Japan and crocs.com.au in Australia. Also available in select retail locations across Europe including Offsprings at Selfridges, Galeries Lafayette, and LuisaviaRoma.