Fashion Month marches on, with NYFW bleeding into London into Milan into Paris and then back again come January. The cycle continues forever onwards and we're all along for the ride, picking up shiny baubles from the banks of the river that is the fashion industry as we go.
Somehow we must make time to smell the roses even as the ceaseless procession only picks up speed. Thus, we're taking the time to celebrate the viral moments of each successive Fashion Week and single out some standout looks from select shows.
Below, members of Highsnobiety's editorial team chose their favorite individual looks from an event that includes several hundred new outfits from dozens of major fashion brands — no small undertaking, but someone's gotta do it.
Ferragamo
"Maximilian Davis is the moment." – Willa Bennett, Editor-in-Chief
Jil Sander
"It's impossible to say anything bad about Jil Sander — this is clean cut minimalism high on detail at its best. If I were to ever consider giving my life to the Sith Empire, you can find me draped in Spring/Summer 2023's darker looks. This one in particular is giving serious dark side vibes. Sign me up." – Sam Cole, Style Writer
Armani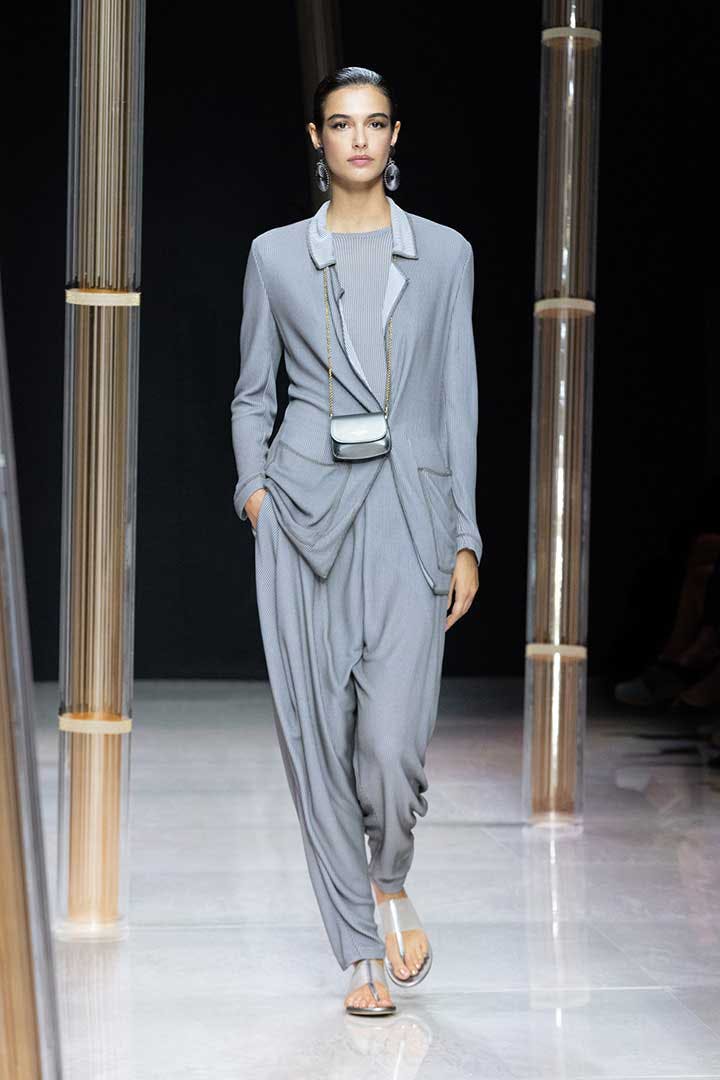 "No one dissolves tailoring like the master himself; only Armani's fluid suits can achieve this level of drapey grace." – Jake Silbert, News Editor
MM6 Maison Margiela x Salomon
"As a self-confessed running obsessive, MM6 Maison Margiela's Salomon look at Milan Fashion Week especially tickles my taste buds. Not only has the house reimagined a pair of its own sneaker-boots with a thigh-height and a Salomon midsole (mad, but frankly terrible for running), they've had their way with the outdoor label's signature Adv Skin 5 running vest too. As the drawn-out and, quite frankly, overused Instagram captions go: it's a look perfect for when you're walking the catwalk at 2pm, but running an ultra-marathon at 6pm." – Tayler Willson, Style Writer
Ferrari
"Ferrari's SS23 show presented an elevated point of view and vision for what's next for the brand. This tie-dye look (à la S.R. Studio) is the perfect mix of editorial and accessible." – Sam Knoll, Fashion Market Editor
Bally
"Rhuigi Villaseñor makes the case for the perfect navy suit." – Willa Bennett, Editor-in-Chief
Fendi
"Fendi describes its Spring/Summer 2023 collection as 'a collision between
minimalist ease and pop-infused eclecticism,' and I couldn't agree more. I love a knit dress, and the peekaboo tummy detail of this fitted sleeveless number is giving just that. What I also love about this look is that I could wear every piece separately, and enjoy each one." – YJ Lee, Senior Editor
Blumarine
"This Blumarine look captures the disaffected glamour of Steven Meisel's famous Vogue Italia "Hollywood" spread — one of the greatest editorials in fashion history. In extra-long hair extensions, an Ed Hardy-esque graphic tee, and oversized shades, she's the girl who always manages to look glam, even in a T-shirt and jeans (or rather, cargo pants). Don't get in her way — unfazed by paparazzi, she will throw her Venti Frappuccino in your face." – Alex Pauly, Style Writer