It's official. Fashion month is over. A fellow fashion industry member probably just let out a sigh of relief.
Paris Fashion Month issued the final bow of fashion month, closing the week and month with plenty of head-turning moments. It's still hard for me to wrap my head around the fact we got Bella Hadid's show-stopping spray-on Coperni dress, Balenciaga's muddy anti-utopia, and Ye's messiest stunt yet in the same week.
Paris Fashion Week was undoubtedly the icing on fashion month's cake of viral occurrences, to say the least. But, let's remember what we all came here for: the looks!
Highsnobiety editors listed and ranked their favorite runway looks from Paris' Spring/Summer 2023 womenswear presentations, from IB Kamara's Off-White™ to Loewe's pixelated wonderland. So, join below as we relive the week's creme de la creme fashion.
Off-White™
"Seeing IB finesse at Off-White™ is a thing of beauty. Straight off his bat, he's delivered the level of artistic flair and enchanting craft that's come to define his career thus far. This x-ray suit with matching bally and gloves is *chefs kiss* — run up a whole lot more of this, please" – Sam Cole, Style Writer
LOEWE
"Absolutely brilliant of Jonathan Anderson to take this twist on the classic English Barbour jacket. Not sure how functional heels will be in weather that requires such outerwear, but this feminine look is still making my heart flutter." – YJ Lee, Senior Editor
Dries Van Noten
"The Dries van Noten show was gorgeous from start to finish, there's no doubt about it. I just can't choose a favorite between the pastel yellow shirt with exaggerated shoulder appliqué and the head-to-toe floral look. Dries is a true master when it comes to prints and color, and this collection showed that he can play with different silhouettes and create entirely different looks that still somehow feel cohesive." – Tora Northman, TikTok Manager
COMME des GARÇONS
"Rather than explain my love for COMME des GARÇONS in complete sentences, I'd prefer to use adjectives. Challenging. Moving. Astonishing. Every season, Rei Kawakubo delves into fabric and silhouette research like no other working fashion designer and it's thrilling to behold. I'm personally partial to the looks where she includes remnants of conventional clothing, like the dangling sleeves seen here." – Jake Silbert, News Editor
The Row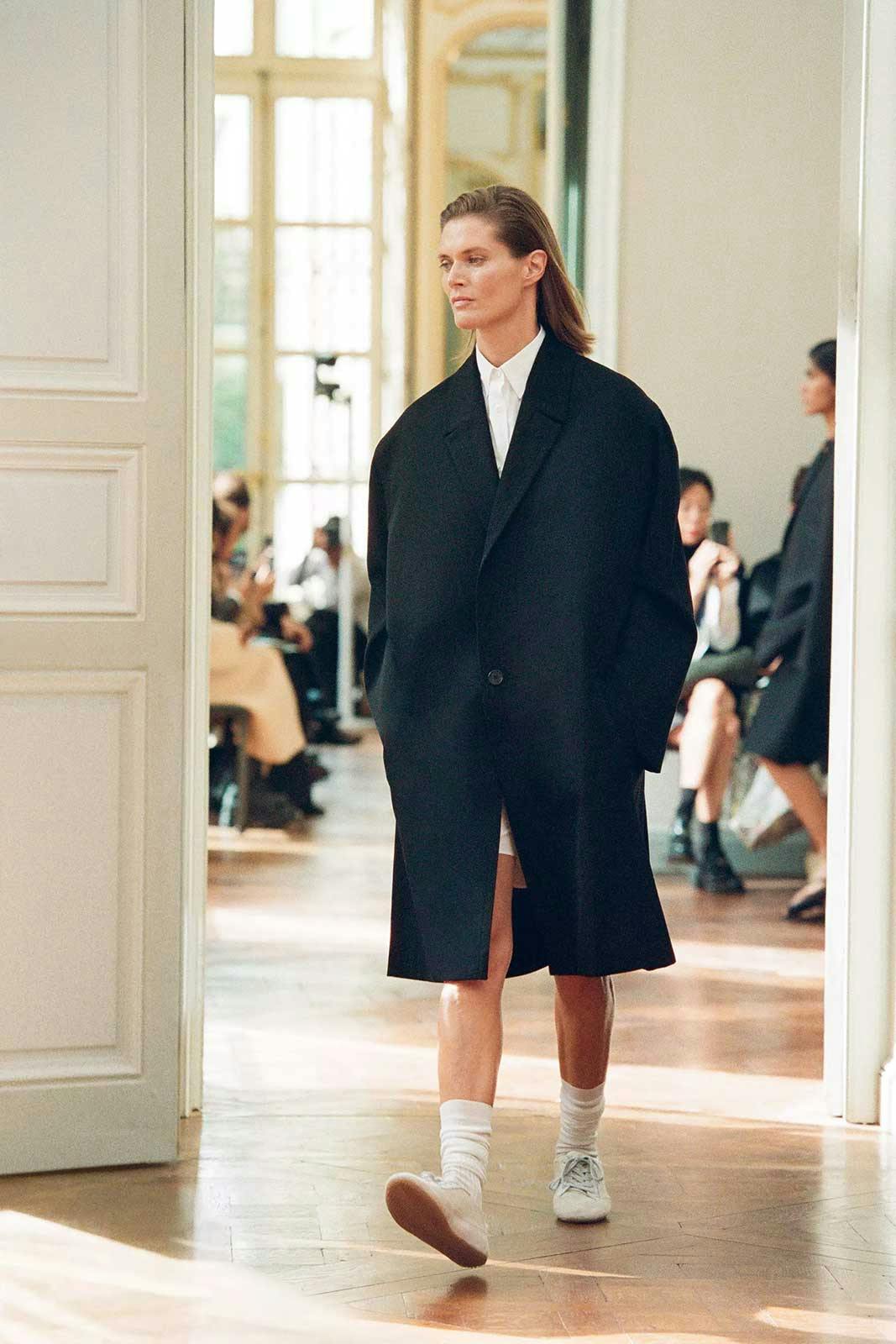 "The Olsens always nail uniform dressing. Their timeless, pristine aesthetic was best exemplified by the second look of their Pre-Fall 2023 collection: a crisp overcoat layered over a white button down and tailored shorts. Ultra-flat sneakers and slouchy socks add a touch of playfulness to the otherwise fastidious ensemble." – Alexandra Pauly, Style Writer
Miu Miu
"It's the FKA Twigs in thong sandals and Miu Miu's latest mini skirt. What more could I ask for?" – Morgan Smith, Style Writer
Balmain
"I know what you're thinking, this technically isn't a runway look, but the bodysuit Cher wore when she closed Balmain SS23 in Paris was an instant reminder that she's still slaying at 76 years of age – as if that was ever in doubt." – Tayler Willson, Style Writer