Dressing up for Halloween is always fun, and having someone to dress up with only gets you more in the spirit.
Whether it's a partner, friend, or family member, having a second person involved opens up a whole new selection of costume ideas. Plus, if everything goes wrong, it's always more fun to fail with someone than to be stood alone as people helplessly try and guess what on earth you have turned up to the party as.
Not wanting to leave you with piles of cheap polyester that will never be used again post-October 31, we've created costumes using clothes you'll want to wear again. And the best way to achieve that is probably to cosplay as your favorite celebrity couple.
From the style gods that are A$AP Rocky and Rihanna to the Y2K legends that are Bennifer, these are the celebrity couple costumes we recommend this Halloween.
Scroll down for the best celebrity couple costumes in 2022.
A$AP Rocky and Rihanna
Trying to pull off an outfit anywhere near as well as Rocky and Rih is a pretty impossible task, but you can always try. If you want to re-create their most iconic outfits of 2022, I would recommend for one-half of the participants to be pregnant.
Bella Hadid and Marc Kalman
This is admittedly a bit more niche than the other selections, but if you are going to a party filled with Y2K fashion fans then they will instantly recognize that you have dressed as their style moldboard. The outfit we have opted for with this costume is one that had all of us scratching our heads: Hadid wearing tighty-whiteys and platform UGG boots.
Ben Affleck and JLo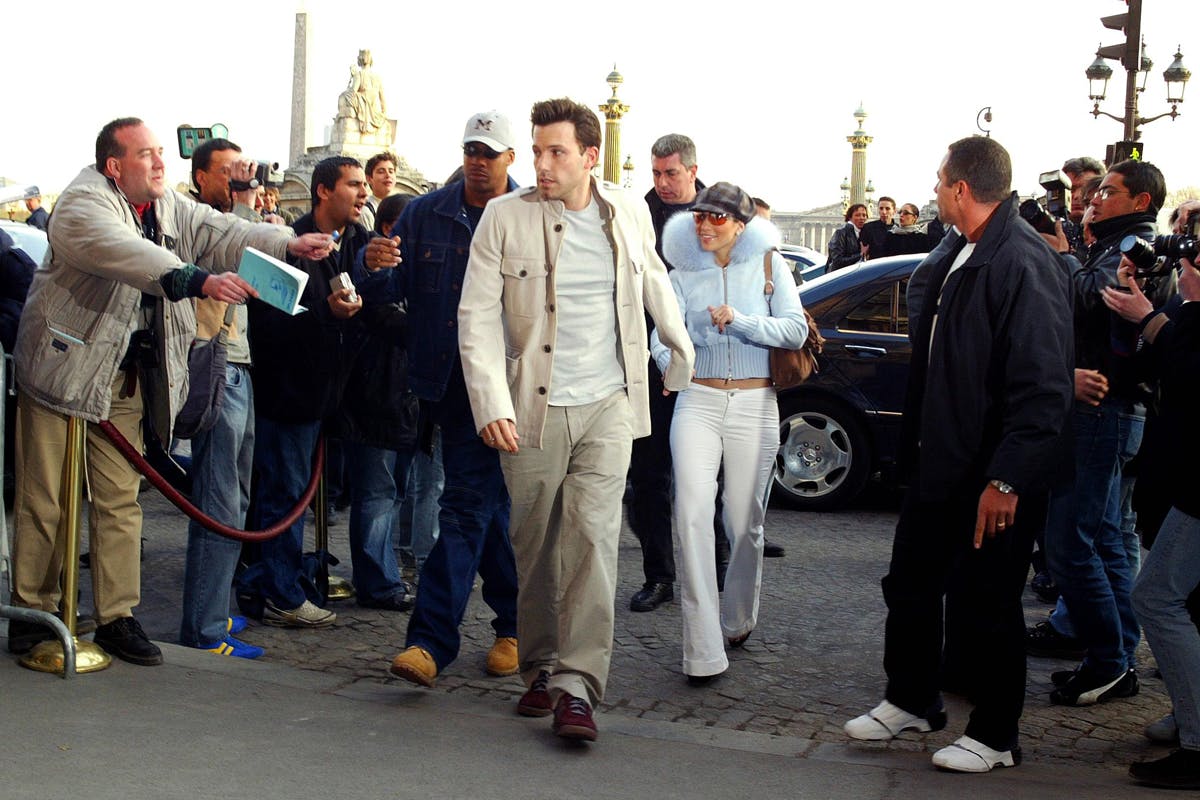 Although they have recently re-kindled their spark, we're going directly to Bennifer's most fashionable era for this costume: the Y2K years. Getting the clothing right is only half of the struggle with this costume, whoever is dressing as Ben Affleck better have practiced their perfectly sculpted grimace.
Justin Timberlake and Britney Spears
No matter how many years go by, this Canadian tuxedo to rival all Canadian tuxedos will never not be funny. And that's why it has been a solid costume choice since the early 2000s.
Shop Justin Timberlake's Look
Shop Britney Spears' Look
Machine Gun Kelly and Megan Fox
If you're looking to frighten your friends this year, then I can't think of anything much scarier than bumping into one of the most cringy celebrity couples around. The two have been promoting MGK's pink-themed album and documentary with full pink looks (hair included) this year, so it's all about wearing one color when pulling off this costume.
David and Victoria Beckham
There are few 90s power couples more iconic than Posh and Becks. Plastered across every tabloid newspaper in the Y2K years, those iconic outfits have gained new relevance as fashion's obsession with the early 2000s continues to show no bounds. If you're going to a party in the UK, then everyone will recognize this costume as the one where Posh and Becks look like roadmen.
Shop Victoria Beckham's Look
Shop a David Beckham Costume
Want to keep browsing? Head to the Highsnobiety Shop for more products that we love. Highsnobiety has affiliate marketing partnerships, which means we may receive a commission from your purchase.