Before founding his fashion brand, OBJECTS, Steven Othello Brown spent the last 15 years quietly building a name for himself in the music industry. The 39-year-old's steep resume includes creative direction for music heavyweights Shelley FKA DRAM and DVSN, public relations and marketing for the late Nipsey Hustle, and the breaks of artists Jesse Boykins III and BIG K.R.I.T.
In 2020, he launched his own clothing brand, OBJECTS, born out of a challenge to buy himself flowers at least once a week during the pandemic. Brooklyn Nets star Kevin Durant is a fan.
Brown's longevity in the cutthroat music industry can be attributed to his willingness to pick up any skill and master it. He's been the photographer, the designer, as well as the manager. Brown wasn't always well-versed in wearing many hats, but his taste and strong-willed drive has made him a trusted voice for many.
"We didn't really have any one that could take on those roles, so I just picked it up, and by trial and error, I learned as I went," the Harlem native tells me in an afternoon Zoom call from New York City. "Eventually, I got good at it with time."
Brown's relationship with music dates back to his childhood when his Uncle Des, who worked at Sony, would bring home free CDs. Brown was exposed to a myriad of genres from artists from the Beatles and Sting all the way to Rakim, and his personal favorite, Nas. That experience is part of what influences his work today.
Fast forward to his time at Long Island University Brooklyn, Brown started sneaker magazine Laced, with close friend and celebrity stylist, Kwasi Kessie. Laced ran for nine years, and featured stars like A$AP Ferg, Teyana Taylor, and SZA. The magazine was a combination of two things Brown and Kessie both love: sneakers and music.
Kessie describes working on the magazine with Brown as a great experience, thanks to his work ethic. "He's the type of person where if he doesn't know something, he'll do the research, and he'll learn it," Kessie tells me. "He'll immerse himself in it and become a master of it."
Laced also served as a springboard for Brown's career into music. Through the magazine, Brown met rapper Mickey Factz, who became the first artist he co-managed alongside another close friend, Saint Louis.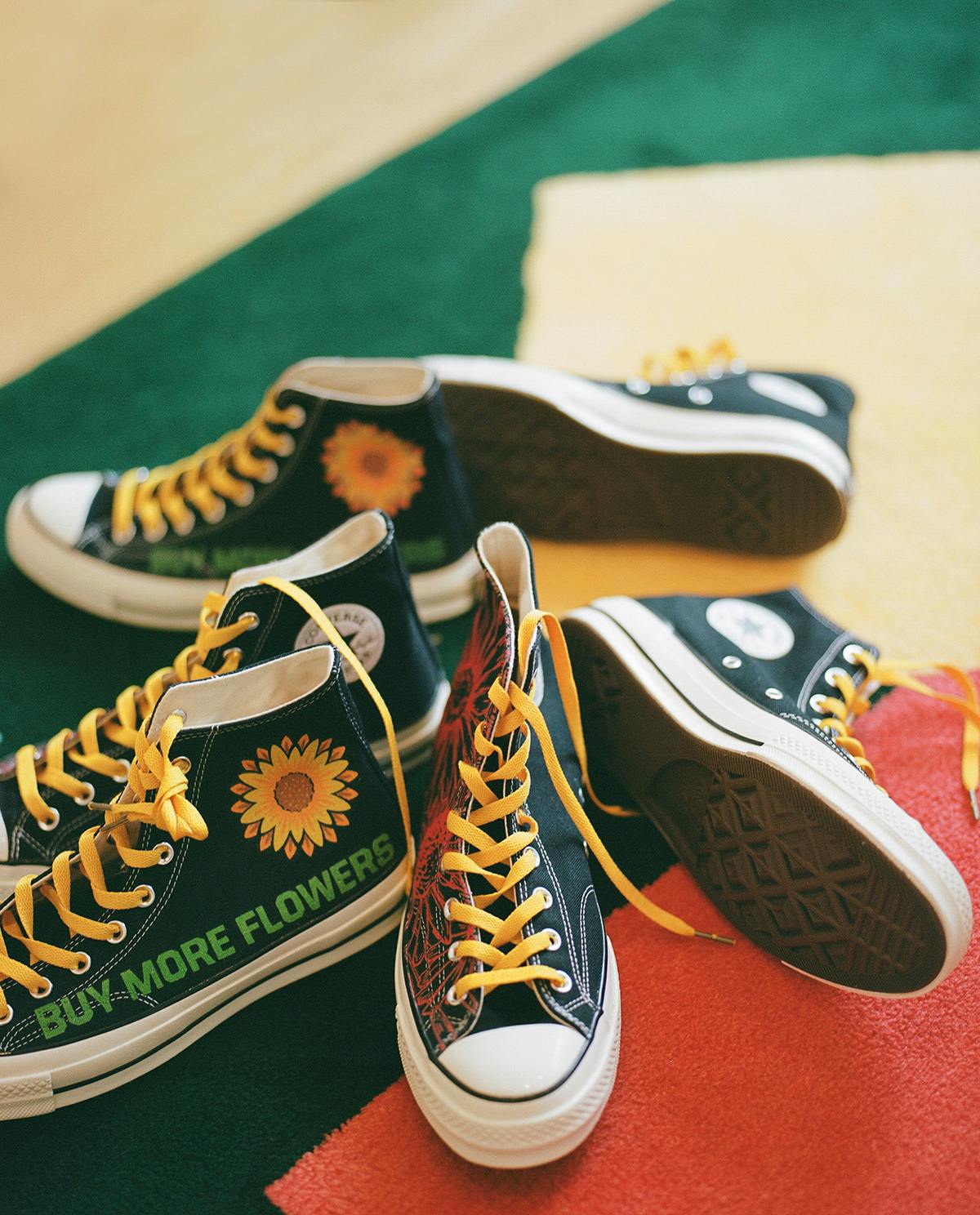 The magazine was an early example of Brown creating around his own interests, and OBJECTS is in the same realm. The creative started with the brand's signature "Buy More Flowers" hats and expanded into floral print socks, lego flower vases, and shirts with floral messages. He didn't expect flowers to become so synonymous with his brand, but now it's something he wholeheartedly embraces.
"I felt like there was a time when being sad was jiggy. Everybody was sad boy, and I was sad boy to be honest. I was in a dark space," Brown reveals. "When we went into pandemic mode, it was a way for me to self care, you know? I'm like, flowers feel good to me, color feels good to me. So now I'm very intentional on making sure flowers and love [are] always included in anything I create."
It was Brown who suggested to the rapper to take different N.E.R.D samples, flip them, and make them his. The project blew up on the internet, and caught the eye of Jonny Shipes, founder of Cinematic Music Group. Here, Brown worked with artists such as Sean Kingston, and even helped discover Mick Jenkins and Joey Badass.
For someone who has shown so much versatility in his career, it's hard to pinpoint what Brown will do next. But Erika Ramirez, founder of ILY Mag, feels like creative direction is where his love of art shines the most.
"With all the hats he's worn, [going] through the entire process of creativity — which is ideation and execution — is where Steven shines," Ramirez says. "For him, it's about just being able to express himself through different vessels and formats." Ramirez tells Highsnobiety it's "super special" how Brown is able to help everyone's creativity shine on a project. "He's very much a team player more so than a leader. He wants everyone involved."
Kessie feels like one day, Brown will create a much-needed bridge for upcoming creatives. "I see Steve having a creative space where he's curating the minds of the next Steven Brown, the next Kwasi Kessie, the next Kanye West, the next you name it."
As for Brown, he's focusing on the process of what he's creating, and smelling the flowers he receives for his accomplishments, no matter how small. When I ask him about the most fulfilling part of doing OBJECTS, he simply says it's the emotional "release."
"I've been a co-star [in] my own movie for years because I felt safe there," Brown says. "I really do enjoy letting the work speak for itself, and then I'm just like, what would it look like or feel like to be uncomfortable for a second? And these past two years, I've been mad uncomfortable. Because if one person [likes] your shit, then people like your shit. It's cool if one person likes it. I'll just do it for them."