Cult Italian brand Stone Island opened its new flagship store in Chicago on October 20, the first in a series of shops featuring a completely new concept designed by AMO, the conceptual arm of Rem Koolhaus's architectural firm OMA. Highsnobiety got an exclusive walkthrough of the new space with Carlo Rivetti, Stone Island's boss, and Samir Bantal, AMO's creative director.
"This new concept is based on our hope to continue to get closer and closer in touch with our community. We are excited to create occasions within the space to meet our clients and friends to explain our product on a deeper level and share experiences together," said Rivetti.
"The work by OMA/AMO is a perfect expression of this point of view. The design is beautiful and functional, and the experimentation on materials seen throughout blows my mind."
The industrial, artisanal feel of the Chicago store mimics the approach that Stone Island takes in making its iconic outerwear. The space's subdued earthy color palette works in perfect harmony with, and almost becomes a background to, the material itself, ceding the starring role to the treatment.
What looks like black and brown hand-poured concrete that lines the walls is actually burnt cork. A table seemingly made from stone is manufactured from pressed and sealed paper. Tyvek that looks like washi paper is used to line the ceiling and hide the track lights that illuminate the steel shelves and poured concrete floor.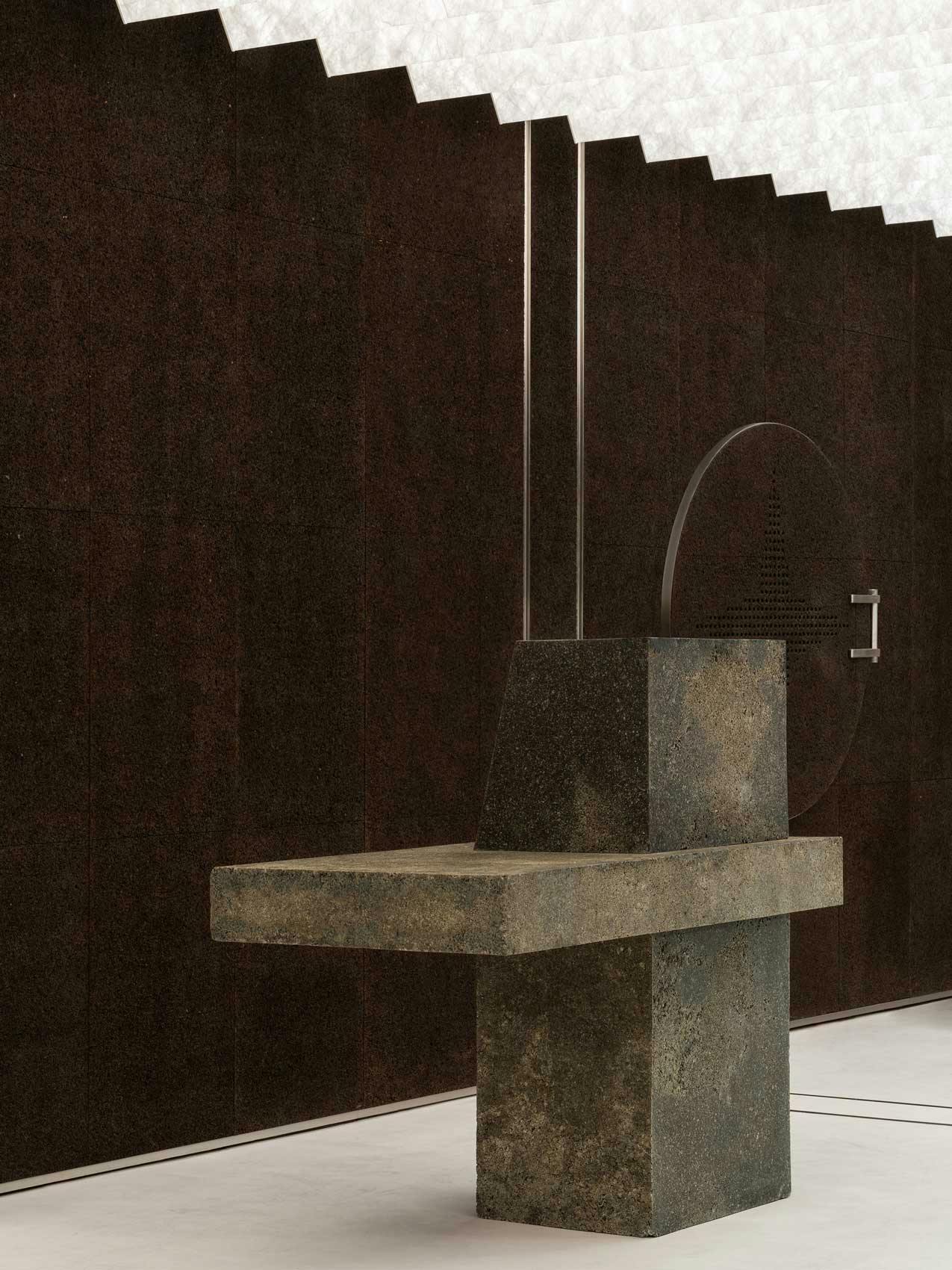 "We really wanted to use heavily treated materials in the store to mimic the way Stone Island makes raw material unrecognizable after it undergoes treatment," Bantal said, relating his experience of traveling to Stone Island's headquarters at Ravarino to witness the mad-scientist-level of fabric experimentation.
Continuing the theme are the fitting rooms, made of corrugated steel covered in layers of sand, as well as shelves that double as digital screens (or vice versa). The digital element is embedded in the store right at the entrance where a movable screen — or "a digital chandelier," as Bantal calls it — plays video or simply projects light.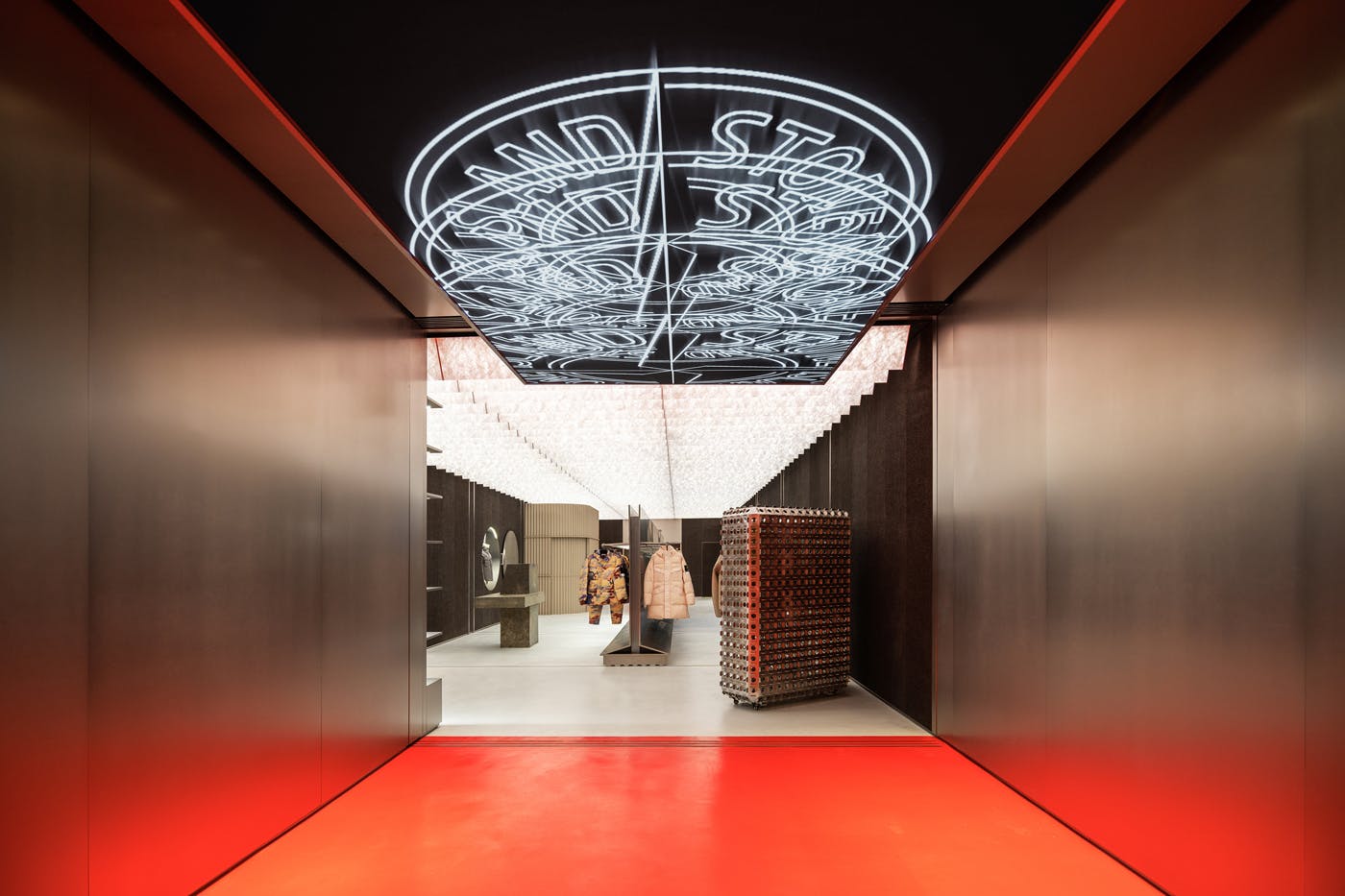 At the time of our viewing it was showing footage of Stone Island's dyeing and fabric treatment processes.
At our request, the team lowered the screen to the floor, revealing a mini-exhibit on its top: a Reverse Color Process camouflage jacket. The five fabric patches next to it showed each step the fabric took in its transformation towards that inimitable reverse-color effect.
Additional "digital shelves" that form a mosaic on one of the shop's walls display renderings of future Stone Island stores in Seoul, Munich, and Stockholm that will mimic the Chicago store's concept. They will not be identical, however.
"It's important for us that each store is different enough while carrying through the same concept," Bantal explained.
Since Stone Island is built on community as much as it is on design, it was important for the brand to make stores that transform into community hubs. To this end, the seemingly massive hanging system that splits the store can be easily wheeled up against the wall to clear floor space for events. Likewise, shelves embedded in walls can be easily covered.
Last but not least, "It was important for us to create spaces within the store that highlight Stone Island's rich history," Bantal said, showing me an in-wall display space where a Pure Metal Shell -Bronze Parka from Stone Island's A/W 1999 collection hung. Its pure bronze shell shimmered slightly, reminding us, the way the entirety of the store did, that it's all about the garment at Stone Island.