The next generation of Nothing audio has arrived. Design-heavy, performance-driven; if you're yet to get acquainted with the brand, there's no better time than now.
Assuming you're here because its transparent, unorthodox products have piqued your interest, let's take a closer look at its newest family member. Say hello, to the Ear (stick).
For the past week and some change, I've had the opportunity to get my hands (and ears) on Nothing's newest audio innovation, the Ear (stick). Having spent a good few months with the Ear (1), which became my go-to set of in-ears until I came home with an empty charging case, I was primed to see what all the hype was about.
I'm very much a "if it ain't broke, why fix it?" type of guy, and honestly, the Ear (1) was, and still is, a great piece of kit. Obviously, everyone has their preference when it comes to earbuds; however, the societal divide usually comes down to one thing – silicon buds or not.
More than just a comfort or aesthetic-led decision, this is (usually) the difference between having active noise canceling or not. As someone that enjoys deafening themselves with drum & bass at full volume to drown out the public, noise canceling is always on.
Unlike its predecessor, the Ear (stick) is free of noise canceling, sitting in the ear similarly to the original Air Pods. While this has meant my recent commutes have come with their fair share of listening to conversations I shouldn't be, the improvements in audio quality between the two devices make up for it.
As per Nothing, "Sound comes to life with Nothing Ear (stick)'s custom dynamic driver – one of the most sensitive in the market. At 12.6mm, it is large enough to deliver rich depths, clear highs, and bold details while still being small enough for a comfortable fit."
Thanks to software improvements that detect how much bass is lost during wear, bass doesn't feel negatively impacted by the half-in-ear design. All in all, my racket hasn't suffered – my ears from the volume, however? Perhaps. That's a good thing, by the way…
Overall, while I miss noise canceling, it certainly isn't a deal breaker.
One thing that may turn you off yet where half-in-ear designs are concerned is how well they remain in the ear. For me, two tests let you know if this is a dealbreaker – the gym and the barbershop.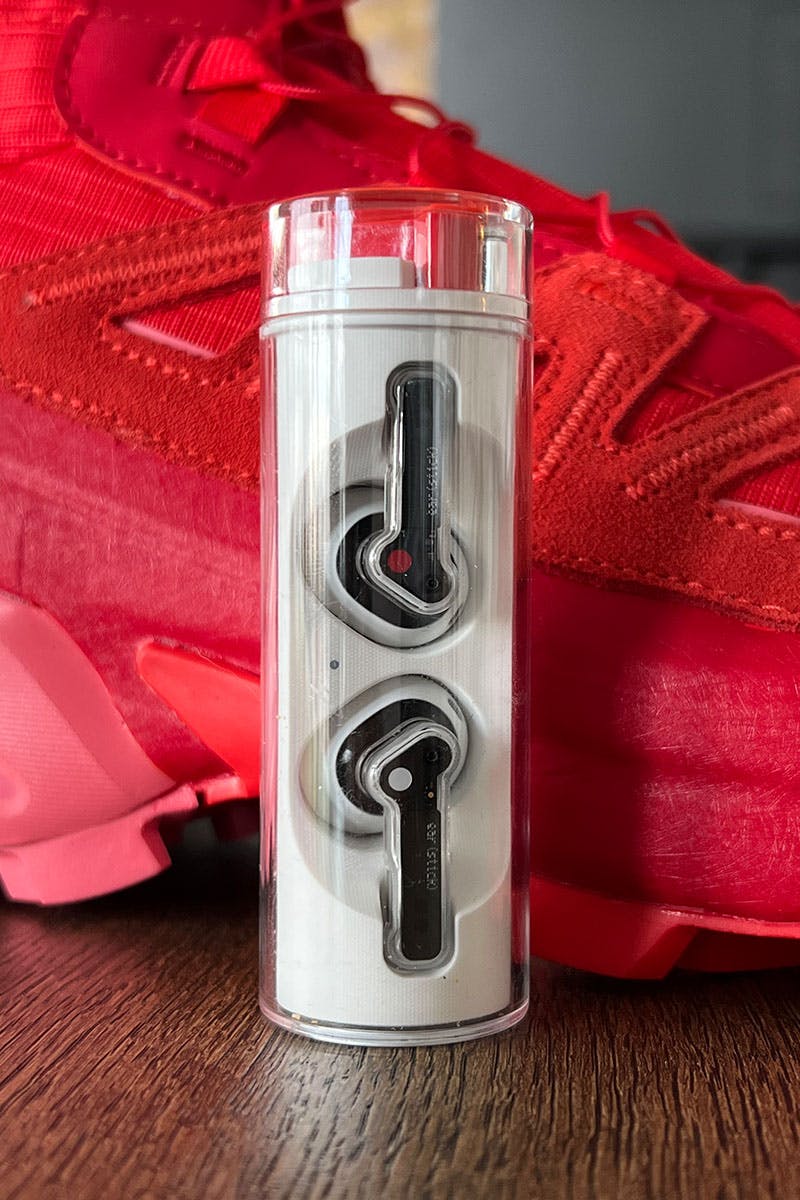 If you can get through a workout without your buds flinging across the floor or a haircut without them tumbling out of your ears, you're in the clear. Fortunately, the Ear (stick) passed both with flying colors. The fit is snug and comfortable, and thanks to the extremely lightweight of the product, you'll oftentimes find yourself forgetting they're in your ears at all.
High-performing audio and ergonomic design are great and all, but Nothing's biggest draw is its boundary-pushing aesthetics. Much like the Ear (1) and Phone (1) – which you can take a better look at here – no corners have been cut, ensuring that the Ear (stick) is a thing of beauty.
Taking on the appearance of, you guessed it, lipstick, the playful housing is not only attention-grabbing but also serves as somewhat of a plaything. Opened with a twisting motion; if you're anything like me, you'll spend half of the day opening and closing the case – trust me, it's highly satisfying.
Fidging the day away, I found myself lost in thoughts of WWE's Elimination Chamber and Tenet's turnstiles; and that's the beauty of Nothing; innovative designs allow the mind to wander, allowing for a deeper appreciation of the product on offer.
Aesthetically, the Ear (stick) ticks all of the boxes and honestly, the audio and fit are yet to let me down. One pet peeve of mine, however, is the small pieces of dust and dirt that have found their way beneath the transparent components, which, due to the design, is pretty difficult to clean. A minor inconvenience that has zero impact on performance.
One final thing to consider is, of course, battery life. As someone that often forgets to charge their devices, I've been pleasantly surprised by Ear (stick). As of yet, I haven't suffered the dread of the battery dropping out mid-song – for that, I can thank 7 hours of listening time and an additional 22 hours of charge in the case. Long commutes are an absolute breeze – and if you should end up needing some extra juice, fast charging that delivers 2 hours of extra listening time in 10 minutes has you sorted.
Overall, the Ear (stick) is certainly a welcomed addition to the Nothing family and any audio selection that you keep at your disposal. With a clear evolution of sound and design, each time you flick open the case, you'll find yourself curiously wondering what will come next.
Once again, carving its own lane, Nothing's Ear (stick) will be available online on November 4 via Nothing and select retailers such as Farfetch for a modest $99.
Shop our favorite product