Lotus is a car brand unlike any other. Colin Chapman, the marque's founder and eccentric racing pioneer extraordinaire built his business by pushing the boundaries of what a performance car could be, by applying components of motorsport vehicles to production cars — he famously noted that "we stretch everything to the limit in our racing cars, and we then know what sort of limit we can incorporate in our production cars." The marque's current portfolio now features a bombastic hypercar, a thrilling sports car, and an electrifying "Hyper-SUV" — perfect for consumers looking for an exciting alternative to basic, cookie-cutter vehicles offered by more traditional names.
Founded in North London in 1948, Lotus set out to revolutionize the automotive industry by producing race cars that would be lighter, faster, and more fun to drive than ever before. It quickly expanded and moved to a purpose-built factory at Cheshunt in 1959, before moving again in 1966 to a factory in Hethel, Norfolk, where it continues to operate to this day. The Hethel facility is located at the site of a former RAF airbase, and in the '60s Lotus' test track even included segments of the old runway. Since the beginning then, Lotus has been associated with action and adventure. Of course, it channels action and adventure through its vehicles, but they also course through the marque's roots. Lotus has made significant contributions to research and development in automotive design and motorsport, and its collaborations with the world of cinema have yielded some timeless results.
The most notable of Lotus' cinematic collaborations happened forty-five years ago, with the release of the James Bond film The Spy Who Loved Me. The third starring Roger Moore as Bond, it transported audiences on a whirlwind adventure around the world — think sandy beaches in Sardinia, desert dunes in Egypt, and snowy mountains in Austria. Directed by Lewis Gilbert, it featured music by Marvin Hamlisch and Carly Simon, as well as lighting consultation by Stanley Kubrick. In the film, Bond teams up with Soviet agent Anya Amasova (played by Barbara Bach) in order to stop the maniacal villain Stromberg from destroying the world to create a new society beneath the sea. And what better vehicle to complete this near-impossible mission than in a (100-percent totally realistic) submersible mid-engined supercar? Enter: the Lotus Esprit, designed by legendary Italian automotive designer Giorgetto Giugiaro.
The story of how Lotus became part of the Bond universe is one of the determination and drive of one of the manufacturer's key figures. Don McLaughlan, then head of Lotus' public relations, had heard rumors that EON Productions were looking for a new Bond car. Intent on getting Lotus in no matter what, McLaughlan parked a red pre-production Esprit outside EON's production offices at Pinewood Studios, in a way that would force everyone to walk around it to get into the building. He added further mystique by covering all of the car's Lotus branding, including on the speedometer, gear shift, steering wheel, and even the tax disc. The production team was understandably intrigued, and promptly contacted him to borrow two prototypes for filming in Sardinia. The car had so much grip, though, that the production's stunt drivers were having trouble skidding, sliding, and just generally thrashing the car about, so the crew decided they would send the Lotus back and look for another car instead. When they handed the car back to Lotus' then-director of vehicle engineering Roger Becker, he decided to show them how it's really done, and effectively gave a masterclass on how to unleash the car's staggering full potential. He handled it so impressively that after seeing him drive, producer Albert Broccoli decided to keep the Lotus, and asked Becker to become the production's main stunt driver. If you want something done right, you might as well do it yourself.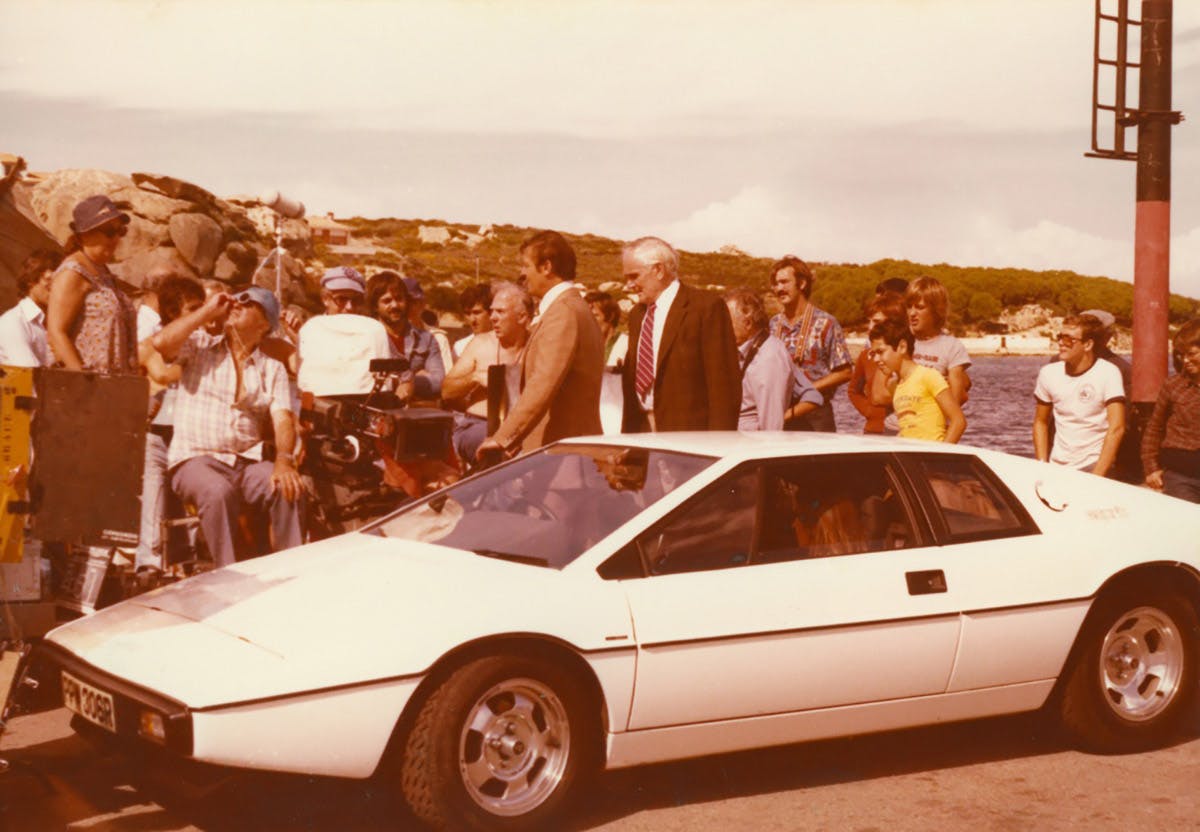 The Esprit in the film is best known for its ability to transform into a submarine and function underwater. To portray this, the crew used scale models, as well as a full-size, empty Esprit shell which was operated by two divers. The submersible Lotus captivated audiences and helped the film become one of the most successful in the Bond franchise, grossing over 185 million dollars at the box office. Lotus later released the Turbo version of the Esprit, which made an appearance in 1981's For Your Eyes Only, driven by Bond through the snowy Italian ski resort town of Cortina d'Ampezzo.
To this day, Lotus marks The Spy Who Loved Me-day on the seventh day of the seventh month, an hommage to the film's release year of 1977. Outside of the Bond universe, though, the Esprit is recognized by film buffs for its appearance in the classic 1990 romantic comedy Pretty Woman. Lotus allegedly landed the gig after two famous competitor brands categorically refused to provide a car that would be driven by Julia Roberts' 'lady of the night' character in the film — props to Lotus for being open-minded.
Hollywood blockbusters and British action franchises aside, Lotus also managed to infiltrate another pop culture sphere of immense influence: Japanese manga. The marque features prominently in the Circuit Wolf series, published between 1975 and 1979 in the Weekly Shōnen Jump manga anthology magazine. The series' protagonist, Yuya Fubuki, is a passionate, fun-loving racer who collects exotic cars, including the legendary Lotus Europa. The mid-engined GT car, which served as the predecessor to the Esprit, was originally produced between 1966 and 1975, before being modernized and reintroduced between 2006 and 2010.
Though its various cinematic ventures introduced it to a whole new generation of fans, Lotus also has some serious real-life motorsport success to its name. Most notably, Lotus competed in the 24 Hours of Le Mans endurance race, the American IndyCar Series, and of course Formula 1. And when we say 'competed', we don't mean sitting around at the bottom of the scoreboard — Lotus is always in it to win it. In Formula 1, for example, the marque has 79 race wins, six drivers' championship titles, and seven constructor's championship titles to its name. In fact, much of F1's current sky-high success can be attributed to Colin Chapman's entrepreneurial spirit in the sport's early days. His push to attract investors and high-profile sponsors to the F1 universe is credited with transforming the "rich man's hobby," as it started out, into the massive high-tech sporting and entertainment institution it is today. Chapman also brought many technical innovations to the sport, such as aerodynamic-enhancing wings, and the then-revolutionary monocoque chassis. Team Lotus had quite an eye for talent, too — renowned drivers such as Jim Clark, Graham Hill, Emerson Fittipaldi, Mario Andretti, Ayrton Senna and Kimi Räikkönen have all worn the team's colors.
On the commercial side of things, the marque has achieved sales success throughout the years, such as with the Elise, launched in 1996, the Exige, launched in 2000, and the Evora, launched in 2008. The Elise platform was even borrowed by several other manufacturers, including Tesla, who entered into a partnership with Lotus for the development of their very first model, the Roadster, released in 2008. Now, the manufacturer is undertaking arguably its most daring change in direction to date: total electrification. The leap of faith makes Lotus the first established sports car manufacturer to go fully electric — all the other traditional brands could never.
First came the Evija, the eye-catching, all-electric hypercar. It was unveiled at a launch event in London in July 2019, and was supposed to go into production in 2020, however that was postponed to 2022 due to the pandemic. With a 400-kilometer range and a 90-kilowatt-hour battery capable of producing close to 2,000 horsepower, its production will be limited to 130 units. Its daring design draws heavily from 1977's Type 79 F1 car — Anthony Bushell, Lotus Cars' head of exterior design, shares that "the negative section from the driver cockpit which runs down to a crisp nose line, with its distinctive 'plan shape', provided the main inspiration for the Evija." So if you're a speed freak with an extra $2 million lying around, this is the car for you.
Then, there's the Emira, Lotus' last-ever combustion-powered model, unveiled in July 2021. It gives Lotus' highly successful combustion era a proper send-off, too, as it's available with either a 3.5-liter supercharged V6 sourced from Toyota, or a 2.0-liter turbocharged engine from Mercedes-AMG.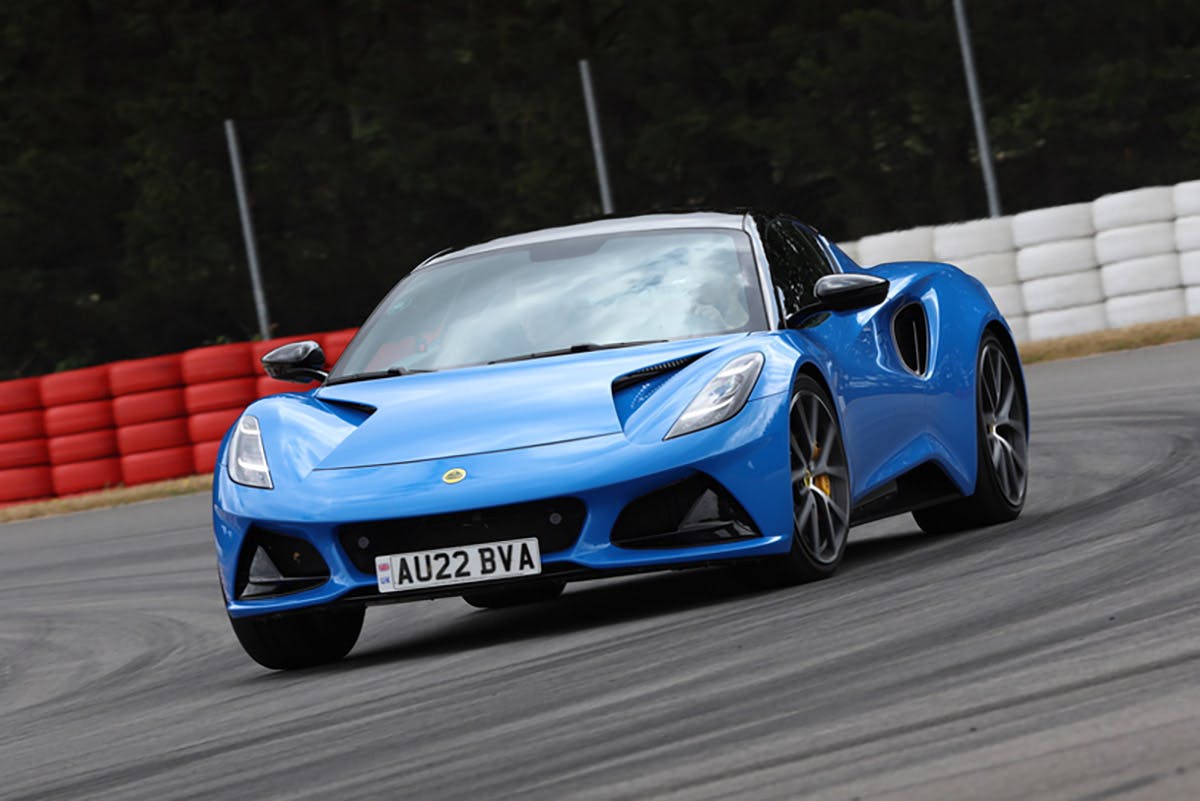 And finally (for now), there's the all-electric "Hyper-SUV" Eletre, deliveries of which are scheduled to begin in the summer of next year. A sports SUV designed to combine Lotus' signature fun driving feel and incredible performance with the comfort, practicality and space afforded by the SUV shape. It's also Lotus' first model to be produced in China, at Lotus' new factory in Hubei province. Starting at 95,990 euros in Europe and boasting up to 600 kilometers of range, the Eletre will be available in three different versions: the Eletre, the Eletre S and the Eletre R. It also features innovative technology such as a LiDAR sensor, autonomous driving capabilities, a KEF audio system that supports immersive Dolby Atmos technology — oh, and a 900-horsepower powertrain for the R-version, capable of launching it from 0 to 100 km/h in under three seconds, which puts the Eletre in the exclusive "2-second club".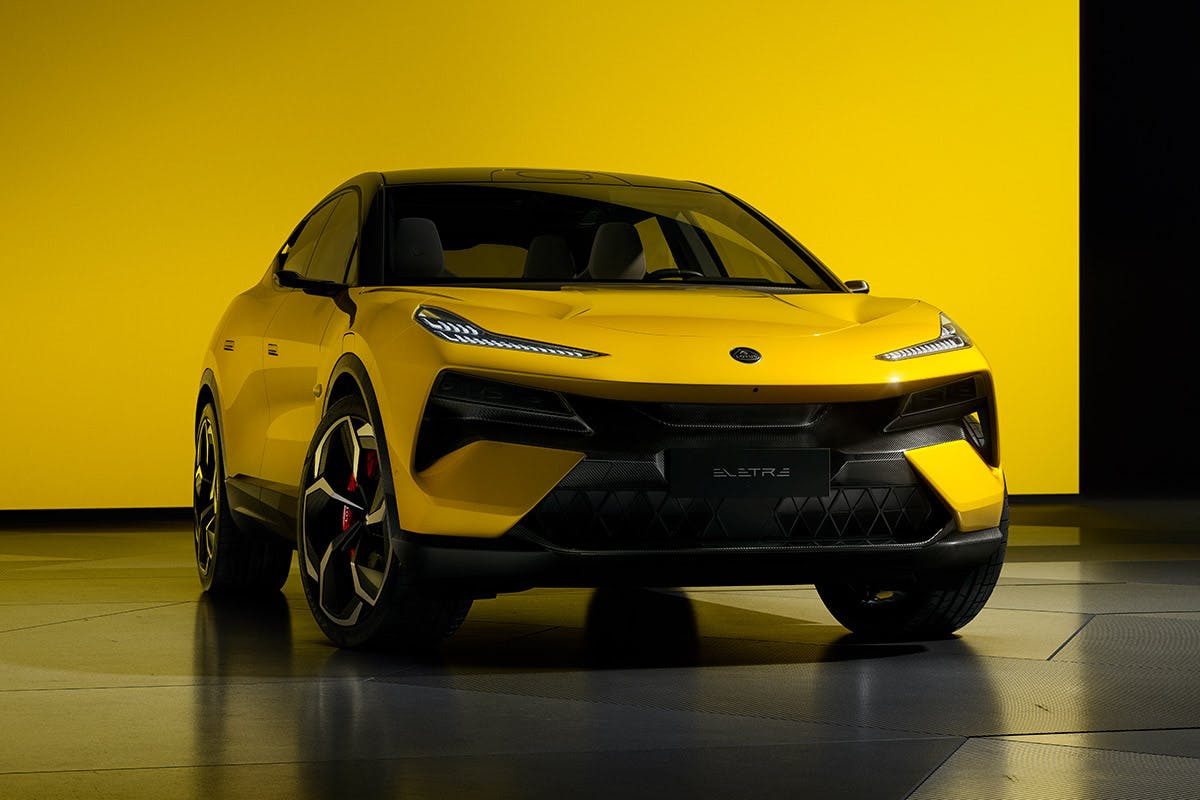 The Evija, Emira, and Eletre trio is just the beginning of an exciting new chapter for Lotus under ownership by Geely Group — one that moves the marque's design language forward into uncharted territory. There is a particular focus on aerodynamics and porosity, looking at how the vehicles can essentially be "carved by air" — vents are used to direct the airflow not only over and under the car, but through it as well, which allows for optimized speed, range, and overall performance. Lotus' namesake flower comes into play too — "Geely Group chairman Li Shufu was keen that we be inspired by the Lotus blossom somehow and it's that sort of thing I admire him for," Peter Horbury, Lotus Group's design boss says. "Each petal has a beautiful form to it and Lotus to him, and for many Chinese people, is about the flower, so we can use that as inspiration too."
Horbury's new design direction will be applied to several new models currently in development, including the Type 133 four-door slated for release in 2024, the Type 134 mid-size SUV coming in 2025, and a new supercar, the Type 135, launching in 2026. All three will be given official names instead of the development numbers currently assigned to them, with each name, of course, beginning with the letter 'E', as has been tradition at the manufacturer ever since the launch of the Lotus Eleven in 1956. In short, Lotus is undergoing a complete transformation from a niche British sports car maker into a global premium performance car marque, with lifestyle cars now available alongside its spotlight-stealing, adrenaline-pumping sports cars. You can expect many more outrageously fun and stylish vehicles from the marque in the near future. It's a crazy world out there, but we can't wait to see Lotus bloom.
Head to the Lotus website to pre-order your Eletre now – or go window shopping on Lotus' TikTok page here.